Kouros Village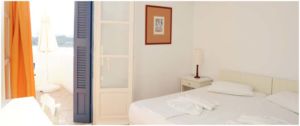 Περιγραφή:
Kouros Village makes an excellent choice for travelers taking a family holiday! It is located right on the seashore and is nestled in a quiet neighborhood at the end of the harbor of Antiparos.
You will be welcomed by the traditional Cycladic style, enhanced with modern architectural elements. The three sea facing buildings offer all accommodations with balconies and sea view rooms. The Village has a pool and beautiful surrounding gardens.
The harbor of Antiparos and the Island of Paros are all visible from the restaurant and by pool side and seashore. Just a few minute walk away is the the harbor and the charming village of Antiparos which offers shops, restaurants, cafes and bars. You can also access many of Antiparos' beautiful beaches all within walking distance from Kouros Village.
Kouros Village is open from middle of April to middle of October but can be contacted throughout the year for information and reservations through email.
This webpage is also available in:

English (Αγγλικά)