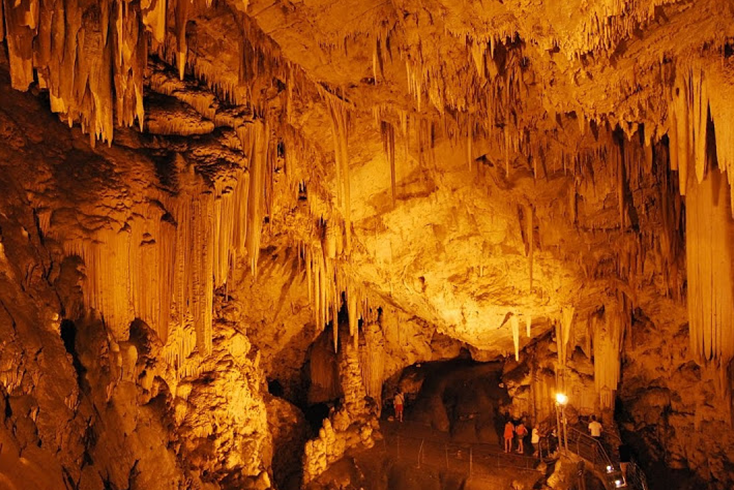 Situated just 8 km from Chora the capital of Antiparos, you will find the Antiparos Cave (also called the Cave of Agios Ioannis church). This natural wonder is Antiparos number one attraction.
It is the only vertical cave in all of Europe with a depth of approximately 85 meters. Inscriptions on the walls of the cave mark and prove the many prominent visitors here dating back to the Neolithic period. A few of those visitors include: Alexander the Great, King Otto, the marquis de Nointe, the lyric poet Archilochus of Paros as well as the ambassador of France.
Originally the Cave of Agios Ioannis was used to provide shelter and later on as a worship place for the goddess Artemis.
The cave showcases the most exquisite stalactites and stalagmites making this one of the finest enchanting natural museums in Greece.
The cave can be accessed by the traditional way, a donkey ride or bus routes from the port to the cave can also be used and run hourly. This adventure will take you down approximately 400 steps, but is worth every one. This is also where you will find the the oldest stalactite in Europe estimated to be 45 million years old! A must see!
The Cave is open for visits from April 2017 through October 2017  and its opening hours are daily from 10:00 to 18:00. From October 10 the Antiparos cave is open from 10:00 to 15:00. Last admission is 30 minutes before closing time.
The admission ticket costs 5.00 euros. There is a 50% discount for children and those over 65 (2.50 euros).
Individuals with respiratory or heart problems are not permitted to enter, because of the high level of humidity prevalent inside the Cave.
Smoking, flash photography and the breaking off of stalactites and stalagmites are prohibited. Writing on the walls and surfaces of the Cave is also explicitly prohibited.
The area in and around the Cave was renovated in 2009. The modernization project included the creation of the 411-step cement staircase with a protective railing, for a spacious and safe descent, the installation of security cameras, the remodelling of the forecourt area and the installation of lighting using the latest technology.
The audio tour is available in two languages (Greek and English). Free printed materials with relevant information are available in seven languages (Greek, English, French, Italian, German, Swedish, Russian), and may be obtained at the entrance to the Cave.
Explore more of Antiparos