Antiparos is a small island in the southern Aegean sea, at the heart of the Cyclades. See below various maps of Antiparos.
Antiparos is less than one nautical mile from Paros island to which it is connected with a local ferry boat.
The island offers 57 km of stunning shoreline and is blessed with a striking natural beauty, crystalline emerald waters, golden sandy beaches and other extraordinary natural wonders.
West of Antiparos there are three uninhabited small islands: Despotiko, Tsimintiri (between Antiparos and Despotiko) and Strongylo (west of Despotiko). You can easily visit Despotiko and its beaches by a small tour boat.
Area: 35.09 km²
Island group: Cyclades
Country: Greece
Telephone area code: 22840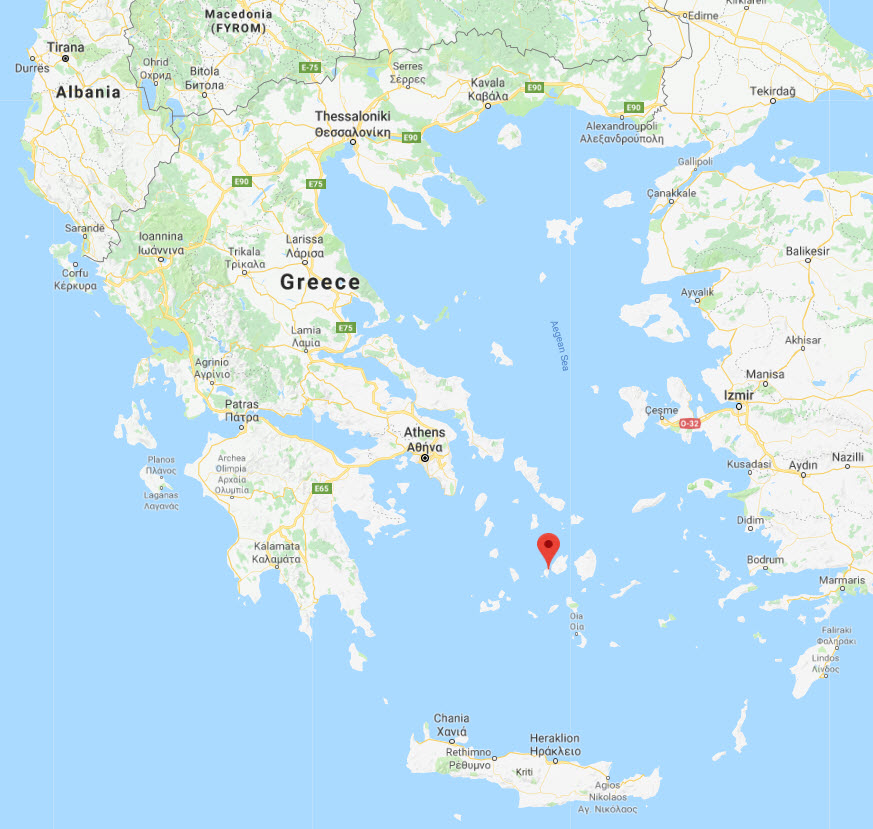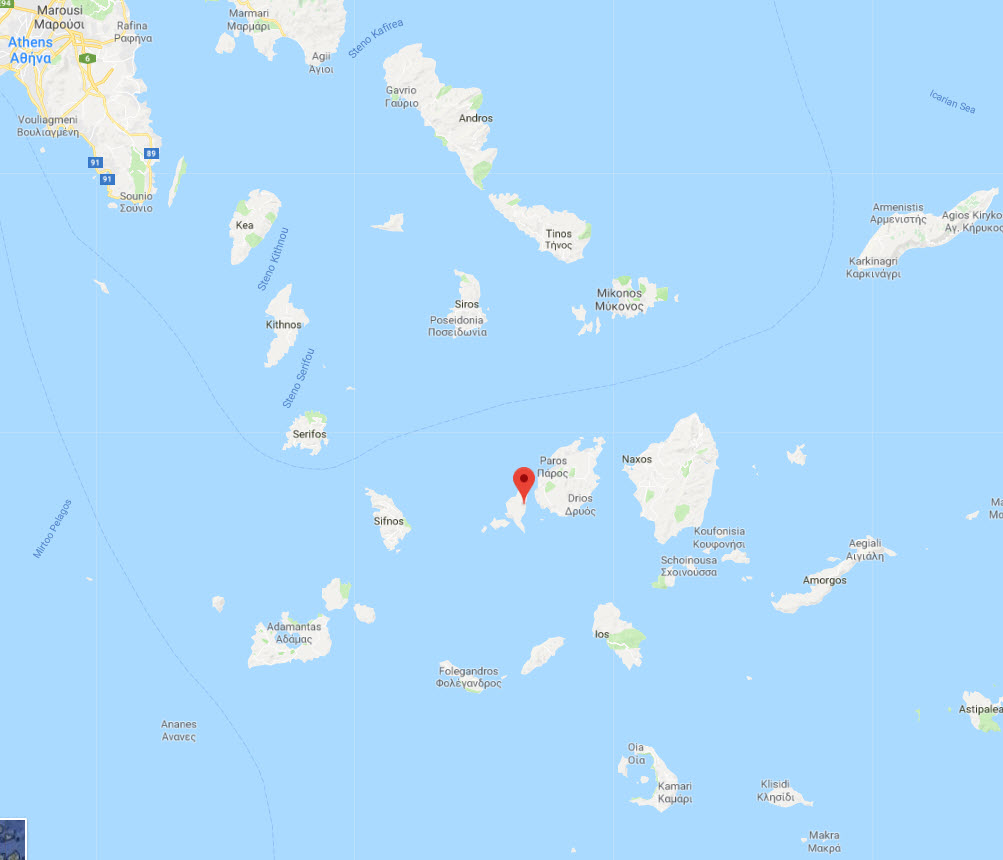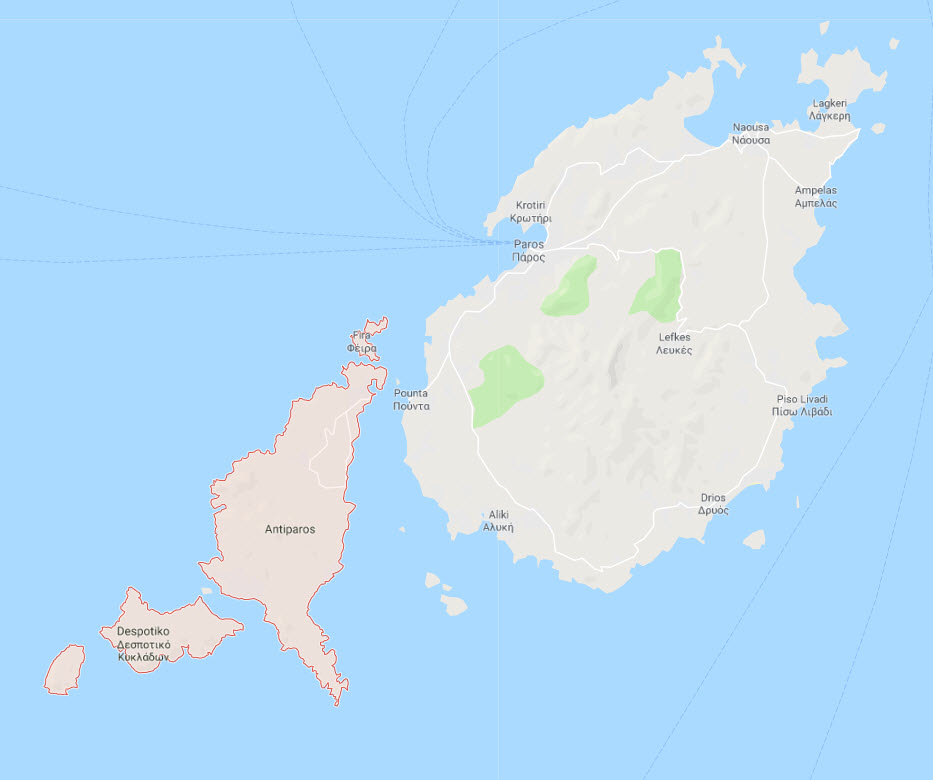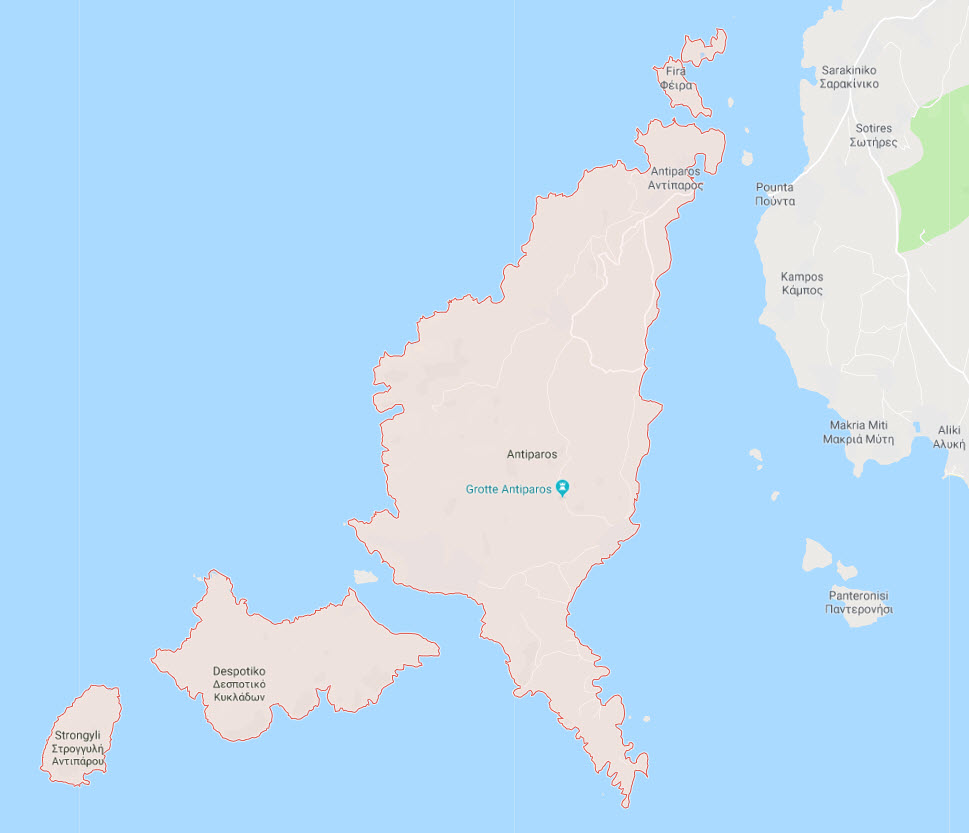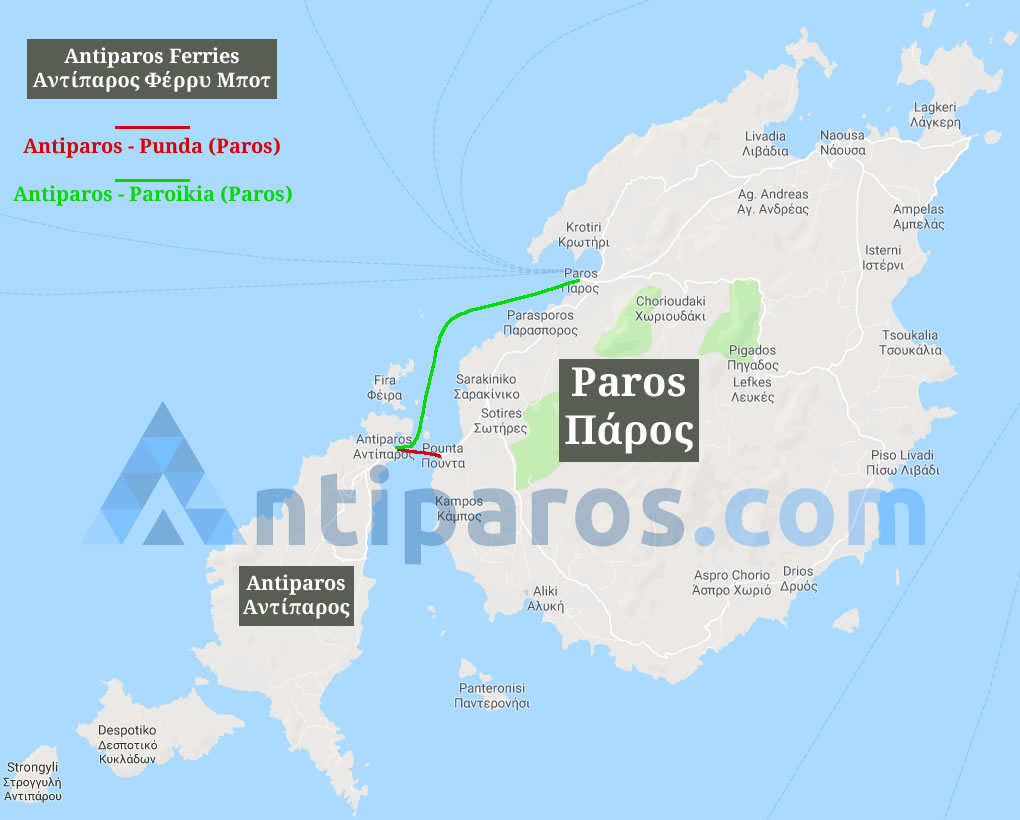 This is a Google satellite map of Antiparos island in Cyclades, Greece.
You can find a regular Google map of Antiparos below.
Antiparos Geography / Morphology
Antiparos island is located in the heart of Cyclades, in southern Aegean sea, 0.8 nautical miles south-west from the island of Paros.
The maximum length of the island is 11 kilometres (6.8 miles) from north to south, while the maximum width reaches 4.5 kilometres (2.8 miles). The total area is estimated at 37 to 38 km (23 to 24 mi). And the highest peak, St. Elias, in the middle of the island, is at 308 m. The main town is called simply Antiparos.
In the central and southern Aegean sea, between the Peloponnese and the Dodecanese islands, there is an island group made of 30 larger, inhabited islands and approximately 190 islets. The Ancient Greeks called these islands the Cyclades and they believed that Delos—the great religious center of antiquity—constituted their center.
Antiparos, the ancient Oliaros, one of the smallest inhabited Cycladic islands, extends very close to the southwestern shores of Paros—from which it is separated by the Steno [narrow] of Antiparos, with a width of 500 to 1,000 metres and a depth of 4.5 metres—and lies to the east of Sifnos, at a distance of 13 nautical miles from the latter's easternmost cape, Napos. Antiparos is surrounded by a group of uninhabited islets. The most significant of these are Despotiko, Stroggylo, Diplo and Kavouras.
Antiparos has an oblong, irregular shape, and terminates at two points (tips): Cape Voreino in the north and Cape Petalida, in the south. The length between these two points is 12.5 kilometres and the maximum width of the island is 5.5 kilometres. Its area is approximately 35 square kilometres and the length of its coastline is 57 kilometres.
In terms of physical geography, the island is divided into two parts: The gentler and more hospitable northern section, and the rocky and wild central and southern areas.
Διαβάστε αυτή τη σελίδα στα:

Ελληνικά (Greek)