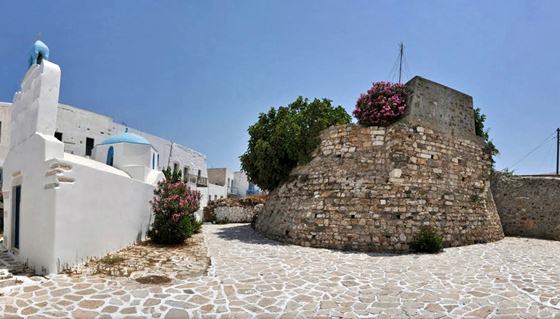 The Venetian Castle of Antiparos (Kastro) was a major attraction to pirates in the Aegean Sea due to its location.
The Venetians built the castle in 1440 to protect the residents of the town. The property the castle was built on was passed to Maria Sommaripa and her husband Leonardo and it is situated in the middle of the traditional settlement and is the only preserved castle in the area.  The local governor resided in the base of the circular tower and today the castle remains uninhabited.
This is not just one building, but a group of organized buildings and well organized groupings of houses and remains the most interesting medieval structure in the Aegean Sea.
The only entrance is a gothic style gate near Antiparos' square. There are 24 two-story houses in the castle, 24 single-story houses in Xopirgo and another 6 two-story houses in the external area. Three churches rest among the houses and the heavy Venetian influence and admirable architecture you can't help be seduced by.
This rare architectural creation was chosen for the set of the movie "Mandalena".
You will be embraced by history as people have lived among these houses for almost 500 years.
Kastro, which means Castle in Greek is also another name given to Antiparos.
Explore more of Antiparos