Ferry Boat Schedule between Antiparos and Paros (Pounda) (UPDATED: MARCH 2023)
Face masks are required at all times on the ferry.
Antiparos island is located one nautical mile southwest of Paros island and

access to it is via Paros only.

Buses depart frequently from the main Paros port, Paroikia, as well as from other areas of Paros, transporting passengers to the little port of Pounta in Paros. From there, travelers can take the ferry boat to Antiparos.
The Antiparos – Paros ferry boat tickets cost €2,00 per passenger, €2,00 per scooter and €7,30 per car for each ride.
Children ride the ferry for free.
Ticket price for transfer of other types of vehicles/motorbikes/boats depends on the type and size of the vehicle.
All tickets are one-way.
Tickets are only sold inside the boat. You can not pre-book your tickets. (In 2020 you can also buy tickets at the port.)
You can only pay for ferry tickets by cash and only in Euro. Credit cards are not accepted.
Ferries are running daily Monday to Sunday all year around. (If the wind allows it.)
The Antiparos – Paros ferry boat trip duration is about 7 minutes.
When you see a ferry waiting at Antiparos port or at the Pounda Paros port just ask if you can get on. If you have a car, you need to park inside the ferry first and then pay.
During peak season there may be a line of cars waiting to get on the ferry so you might not get on the first ferry leaving.
If you are just going for an afternoon or evening walk at Antiparos town or to get a late drink at the bars then you don't need to get your car to Antiparos. You can just leave it at Paros. Antiparos port is right next to the Antiparos town.
While traveling from Paros to Antiparos with the ferry you can see a small island on your right called Revmatonisi. Just as you arrive at the port of Antiparos you can see the church of Agia Marina right in front of you. The town of Antiparos is on your right.
Port Authority of Antiparos Telephone: +30 2284061485
Ferry-boat timetable follows.
Paros – Antiparos by ferry. This is the complete ferryboat schedule between Paros (Pounda) – Antiparos (Updated: March, 2023):
*Pounta is also written as Pounda or Punda. Pounta Paros port is different from Punda beach that is also located in Paros island. The Pounta Paros port going to Antiparos is in the west part of Paros.
FROM POUNTA* PAROS TO ANTIPAROS DAILY
07:15
08:00
08:45
09:30
10:00 (weekdays only)
10:30
11:00 (weekdays only)
11:30
12:00 (weekdays only)
12:30
13:00 (weekdays only)
13:45
14:30
15:30
16:30
17:30
18:30
19:30 (weekdays only)
20:30
22:45
23:30
FROM ANTIPAROS TO POUNTA* PAROS DAILY
07:00
07:45
08:30
09:15
09:45 (weekdays only)
10:15
10:45 (weekdays only)
11:15
11:45 (weekdays only)
12:15
12:45 (weekdays only)
13:30
14:15
15:15
16:15
17:15
18:15
19:15 (weekdays only)
20:15
22:30
23:15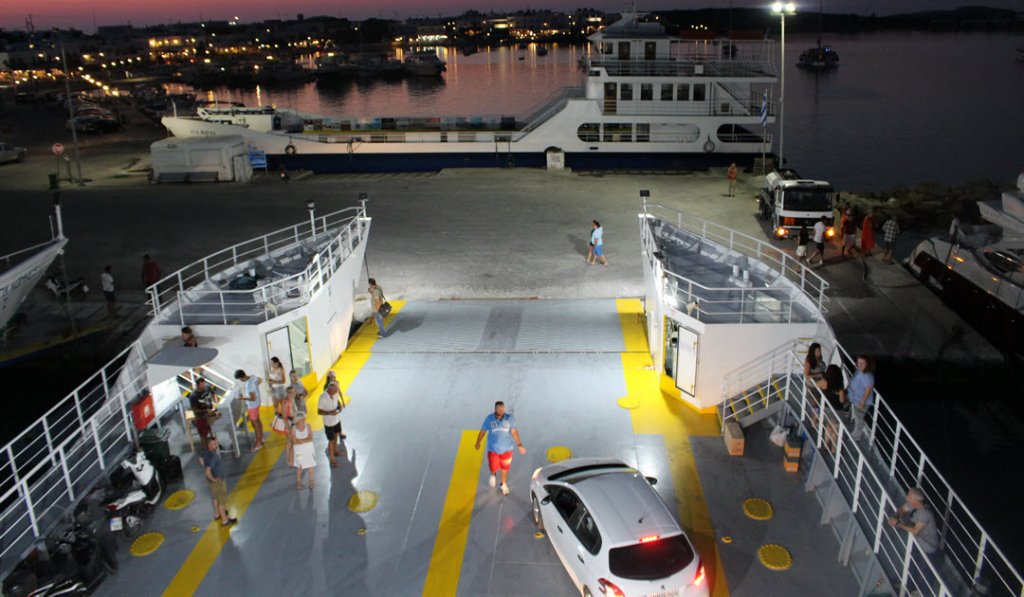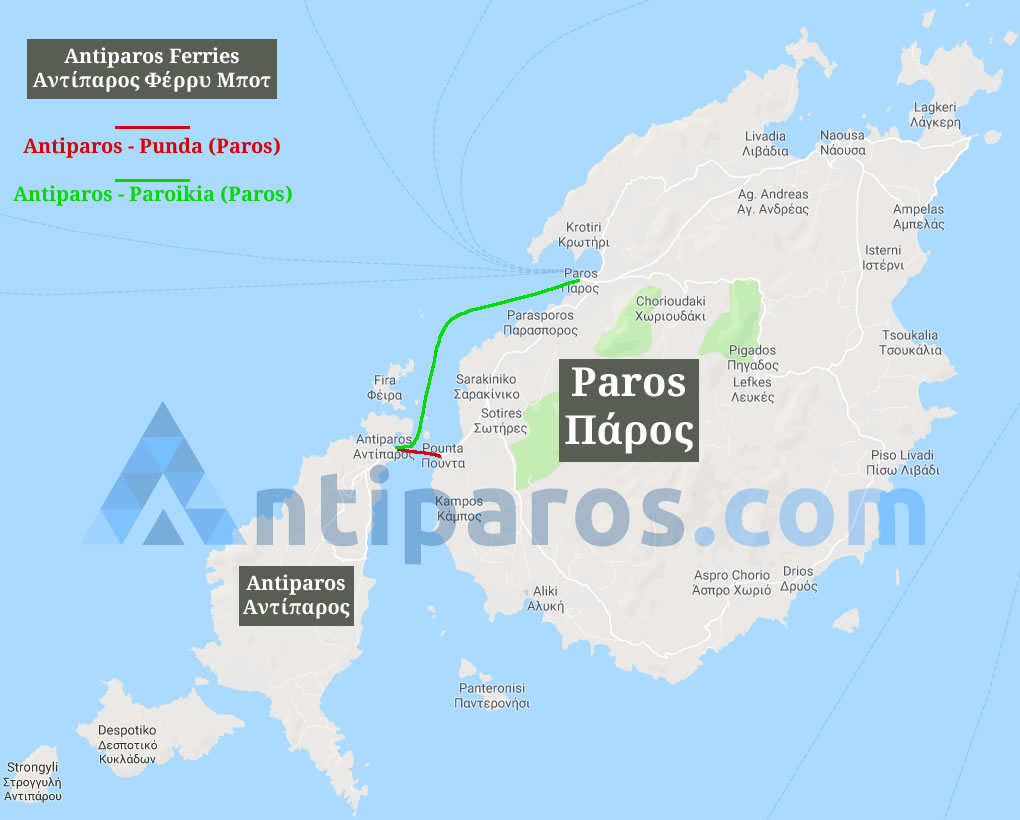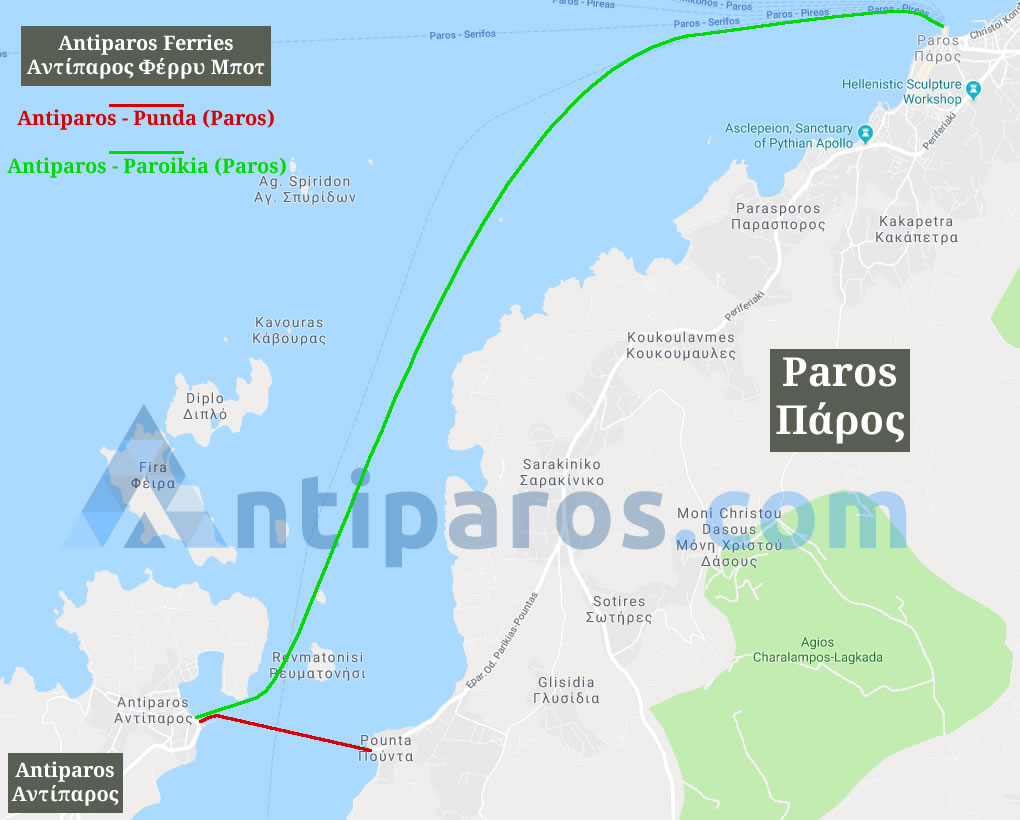 Ferry boat from Paros main port (Paroikia) to Antiparos (DIRECT BOAT)
There is also a small boat, Express Panormitis Antiparos, operating daily between Paros main port (Paroikia) and Antiparos that only takes passengers and no vehicles. The boat usually operates from the Greek Easter (around April or May) until October. The trip duration is 30 minutes and the one-way ticket costs 5 Euro.
Port Authority of Paros Telephone: +30 2284021240
Express Panormitis Antiparos: +30 6978236293
This ferry started running again on June 1st 2022.
Face masks are required at all times on the ferry.
See here the Parikia (main Paros port) – Antiparos ferry schedule:
FROM PAROS PORT (PARIKIA) to ANTIPAROS DAILY
10:05
11:00
12:00
13:30
15:30
17:00
18:30
FROM ANTIPAROS to PAROS PORT (PAROIKIA) DAILY
09:15
09:45
10:45
13:00
15:00
16:30
18:00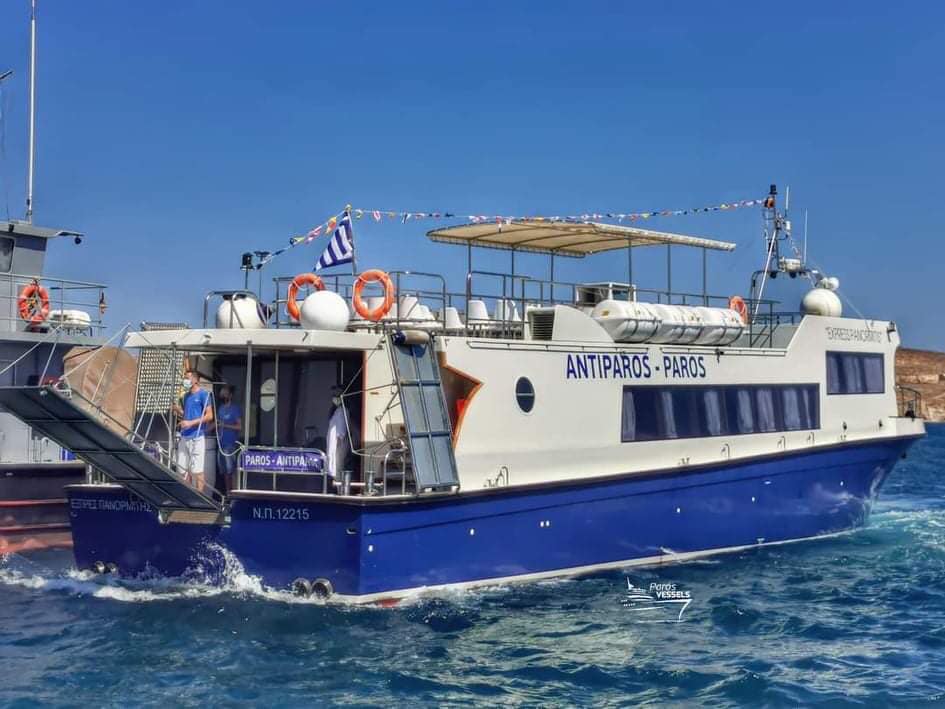 Antiparos – Paros ferries times during the year
These are sample first ferry and last ferry times that are based on previous years. These are provided so you can schedule your trip in advance depending on what month you are visiting Antiparos but times are in no way guaranteed. Every year the ferry schedule is a bit different depending on local holidays such as Easter and demand. The first Paros to Antiparos ferry runs about 15 minutes after the first Antiparos to Paros ferry. The last Antiparos to Paros ferry usually runs about 15 minutes earlier than the last Paros to Antiparos ferry.
Don't expect to wait more than 2 hours between ferries even at off-peak months during the winter. The usual frequency is 30 minutes or 1 hour either way (Antiparos or Paros). Times change frequently (even weekly) during peak season in the summer. Always check back for current schedule.
During the months of summer the ferry boat starts at about 6.00/6.15am and ends at about 1.15/1.30am on the next day. In August sometimes the ferry boat runs until 3.15/3.30am.
| Month | First ferry time from Antiparos to Paros | Last ferry time from Paros to Antiparos |
| --- | --- | --- |
| January |  07:00 | 23:30 |
| February | 07:00 | 23:30 |
| March | 07:00 | 23:30 |
| April | 07:00 | 23:30 – 00:30 |
| May | 06:00 – 07:00 | 00:30 |
| June | 06:00 | 00:30 – 01:30 |
| July | 06:00 | 01:30 – 02:30 |
| August | 06:00 | 03:30 |
| September | 06:00 – 07:00 | 00:30 – 01:00 |
| October | 07:00 | 00:30 |
| November |  07:00 | 23:30 |
| December | 07:00 | 23:30 |
Διαβάστε αυτή τη σελίδα στα:

Ελληνικά (Greek)