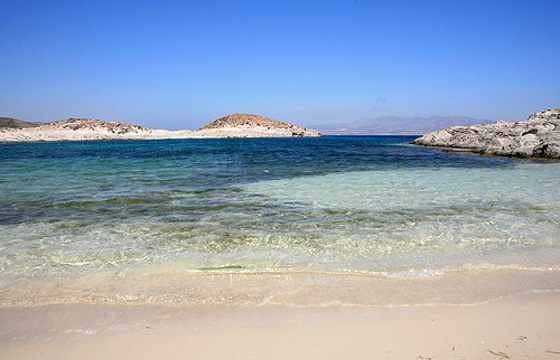 Soros beach is a popular long sandy beach that is organized with sunbeds and shade umbrellas for rent.
The beach is located at a distance of 8km south of Antiparos town. This is the largest beach on Antiparos island and is very popular especially during high season.
Soros is a wide, clean sandy beach with fine pebble and deep waters. The sapphire waters and beautiful green shade trees welcome you.
This beach is not suggested for families with children looking for shallow waters. The sea of Soros beach in many spots suddenly deepens with rocks found near the shoreline and an abrupt seabed. The sea gets deep fast after the first three meters.
There are two taverns nearby inviting visitors for delicious local specialties, freshly caught fish and drinks.
There is a municipal bus stop. You can see the bus timetable here.
Just before you reach Soros you can find the Mikros Soros (Small Soros) that has fine little gravel. If you continue to the south of Soros, you will find many coves and sandy beaches to enjoy some privacy.
Διαβάστε αυτή τη σελίδα στα:

Ελληνικά (Greek)