The Antiparos beaches guide by Antiparos.com provides visitors and travellers with an extensive list of the best beaches in Antiparos, Greece, including some of the most striking private beaches as well as all the organized beaches.
The tranquil island of Antiparos in the Cyclades group of islands in Greece is abundant with natural beauty and pristine sandy beaches.
Antiparos beaches are known for their clean water and the peaceful environment. The transparent water invites visitors for a swim any time of the day.
With a coastline of 57 kilometres, Antiparos is 'embraced' by astounding beaches. On the one side, the island is 'hugged' by tranquil waters with golden sandy beaches, on the other by vertical crags with caves chiselled by the open sea and the winds.
The island is a holiday paradise with stunning and enchanting landscapes, gorgeous beaches and endless natural beauty and tranquility. These picturesque beaches will also captivate you with their peaceful atmosphere, stunning blue sea and fine golden sand.
During the summer you can take the bus to some of the most popular Antiparos beaches or go on a boat trip that lets you swim on some of the most beautiful remote beaches of the island.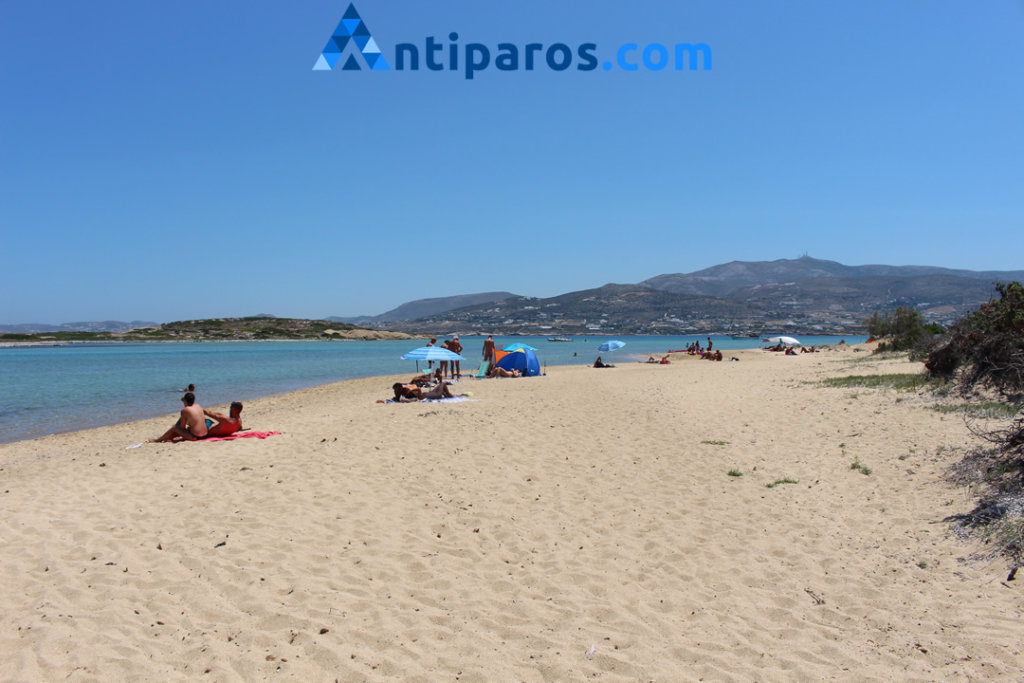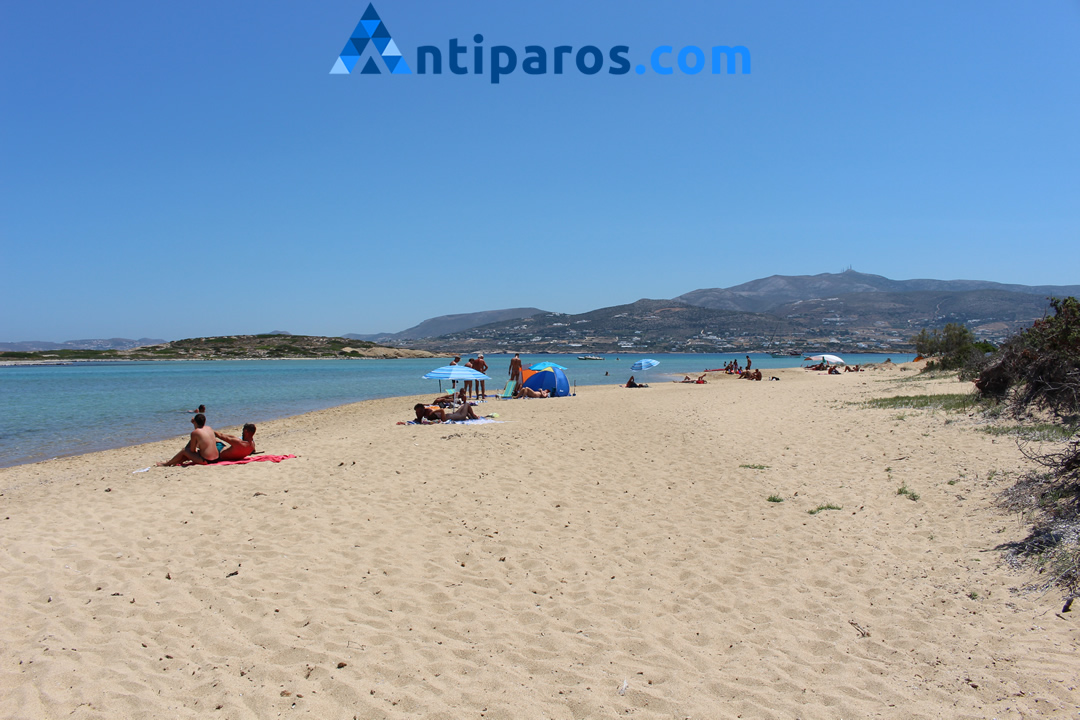 Antiparos invites visitors to indulge in swimming and water sport adventures and activities and is known to have some of Greece's most striking private and organized beaches. A few Antiparos beaches we recommend exploring are Psaraliki, Soros, Glifa, Livadia and Agios Georgios beach.
The quite a few Antiparos beaches that are within easy access of the village, Antiparos town, just five minutes of walking away.
There are also many beaches that are outside of the town and for these you can access these by using a car, motorcycle, bicycle, the public bus or even a boat.
You may also want to visit the beaches on the nearby small islands like Despotiko.
You can find below a list with the best beaches in Antiparos island and the best beaches of the nearby islands.
Top 10 Beaches of Antiparos
Psaraliki beach
Faneromeni beach
Camping beach
Agios Sostis beach
Soros beach
Sunset beach (or Sifneiko beach)
Agios Georgios beach
Glyfa beach
Livadia beach
Panagia beach
Antiparos Beaches Guide
AGIOS SPYRIDONAS BEACH
Agios Spyridonas beach is the shallowest sandy beach on the island of Antiparos and a very popular beach for locals and visitors.
It is located to the northeast of the Port, just 200m from Antiparos town (Chora).
The beach also known as Agios Spiridonas is protected from the wind and is a welcoming spot for families looking to spend a pleasurable day at the beach. The crystalline waters are nice and shallow and make this beach ideal for children.
The shallow waters and the tamarisks prividing shade create a paradise for young children (this is why it is also known as the 'Baby Beach').
Its location offers a magnificent panoramic view of Paros island and is an ideal location to enjoy some local specialties at the traditional taverns along the coast.
Nearby are some small hotels and rooms to let that are available for those wishing to stay in the area.
AGIOS GEORGIOS BEACH
Agios Georgios beach is a small beach with fine sand, near the chapel.
Situated in the small village of Agios Georgios this stunning beach is sheltered in a picturesque bay with a beautiful view to the islet of Despotiko.
You can embark on several boat trips to nearby islands (like Despotiko) or try some local specialties and freshly caught fish at many nearby taverns.
This is not an organized beach, so be sure to pack what you need and bring supplies with you.
APANTIMA BEACH
Apantima beach a charming pebbly beach with crystal clear waters and a rocky sea bottom.
The beach is located immediately after the intersection leading to Antiparos Cave.
This picturesque refuge of scenic calmness is set in a magnificent cove fully protected from the summer winds.
One of the island's best restaurants is located right above the beach and offers visitors a wonderfully delicious selection of local specialties and drinks.
Apantima beach is organised (Beach House charges 10 euro per person) and has a beach bar and restaurant.
There is a municipal bus stop.
GLYFA BEACH
Glyfa beach is a sandy beach on the southern area of Antiparos facing east towards Paros island.
Glyfa beach is located at a distance of 3.5km from Antiparos town in a rural setting offering a peaceful beach escape for travelers looking for a hideaway.
Glyfa is ideal for families and children to play in the sand and swim in the sapphire waters. Access to the beach is easy. There are some trees that provide shade from the sun in the hours when it gets stronger.
This picture perfect setting is known for its unspoiled natural surroundings, the crystalline waters, golden sand beaches and a view of Paros Island.
Delicious local dishes are available in nearby taverns.
A few hotels are situated close to the beach and can accommodate other amenities you may be looking for.
In 2017 it had some umbrellas and sunbeds that were free of charge. Up until 2016 there was a cafe and a windsurfing school. These were not operating in 2017 so it may be useful to take some supplies with you.
The beach is close to other important locations such as the Antiparos cave so it can be taken into account for planning excursions.
There is a municipal bus stop.
KAKO REMA BEACH
Kako Rema beach is one of the least known and most quiet beaches of Antiparos island.
This captivating sandy beach offers a sanctuary of privacy with an enchanting view where you can relax. The bay is protected from strong winds, so it is safe to swim.
Kako Rema beach is located south of Antiparos town, near the village of Agios Georgios.
At Kako Rema you can dive in the crystalline emerald waters, sunbath on the golden sandy beach and enjoy some local dishes at the nearby taverns.
A few small hotels and somes rooms to rent are situated nearby and the Islet of Despotiko is opposite the beach.
This is a popular stop over for small tour boats in the area.
The beach is not organized with sunbeds and umbrellas.
Kako Rema can be reached by a vehicle or by boat.
LIVADIA BEACH
Livadia beach is a beautiful remote beach with sand but without shade, ideal for nature-lovers.
Livadia is about 17 km from Antiparos town (chora), after Kambos.
The beach is set on the western side of Antiparos, which is the most undeveloped side of Antiparos island.
Livadia beach offers a calm and peaceful setting that is protected by a bay. It is ideal for enjoying a relaxing swim or sunbathing without the crowds.
This exquisite beach is not easily accessed and it is often affected by high winds. If you can plan a visit when the winds are settled it is worth experiencing the sapphire colored sea and captivating scenery.
The beach is not organised. Not many tourist facilities can be found in the region, except for some rooms to let.
PANAGIA BEACH
Panagia beach is one of the most picturesque beaches on Antiparos island. It is close to Antiparos town (approximately 1 km to the south) and sometimes it is called Psaraliki beach 3. Panagia can be found after passing the two main beaches of Psaraliki.
Panagia beach offers a beautiful setting with a large bay and a peaceful atmosphere. The beach has azure waters, fine golden sand and a feeling of serenity that you won't want to leave.
Swimming in the cerulean waters and resting beneath the shading trees provide a perfect escape. Panagia beach has big trees that provide nice shade.
A tavern close by will serve mouth-watering Greek dishes inviting its visitors for a delicious experience of local flavor.
This location is a perfect choice for those looking for some privacy and calming atmosphere.
There is a municipal bus stop.
PSARALIKI BEACH
Psaraliki beach (or Psaralyki beach) in Antiparos is a sandy beach that actually consists of two beaches, which are known as Psalariki I and Psalariki II.
This lively beach haven offers two consecutive beaches that welcomes families to its sandy beach with shallow waters ideal for swimming and water sports activities.
Psaralyki A and B (or 1 and 2) are two organised Antiparos beaches, where one is the natural extension of the other, with golden sand, beach bars, sunbeds and water games.
From Antiparos town, Psaralyki A and B (or 1 and 2) beaches are the 2 most easily accessed beaches on the island.
The location of these beaches that are facing east are ideal for when strong nothern winds hit Antiparos island. The beaches are mostly wind protected and ideal for families with small children, as they can safely play in the shallow waters without big waves.
Psaraliki I beach lies on the east part, and you can reach it after 10 minutes of walking in south direction from Antiparos town.  It is also possible to get there from Antiparos town by following the coastal path towards south. Psaraliki I is bigger and chosen by most tourists for swimming.
Psaliraki II beach can be reached after a a 2 minute walk going towards the south from Psaraliki beach I. Psaraliki I gets most tourists so that leaves Psaraliki II beach available for nudism, although sometimes you might find non-nudists, as well.
This beach is entertainment focused with options for everyone to enjoy. Available amenities offered here are pedal boats, bananas (towable inflatables), windsurfing, swimming, snorkeling and beach tennis. You will also find a restaurant on Psaraliki II and 2 beach bars for a taste of some local entertainment and treats.
The Psaraliki beaches are fully equipped with sunbeds and umbrellas for rent where visitors can relax and find a shady retreat to enjoy the warmth of the sun, read or take a nap. There is also natural shade offered by tamarisk trees.
SOROS BEACH
Soros beach is a popular long sandy beach that is organized with sunbeds and shade umbrellas for rent.
The beach is located at a distance of 8km south of Antiparos town. This is the largest beach on Antiparos island and is very popular among Antiparos beaches especially during high season.
Soros is a wide, clean sandy beach with fine pebble and deep waters. The sapphire waters and beautiful green shade trees welcome you.
This beach is not suggested for families with children looking for shallow waters. The sea of Soros beach in many spots suddenly deepens with rocks found near the shoreline and an abrupt seabed. The sea gets deep fast after the first three meters.
There are two taverns nearby inviting visitors for delicious local specialties, freshly caught fish and drinks.
There is a municipal bus stop. You can see the bus timetable here.
Just before you reach Soros you can find the Mikros Soros (Small Soros) that has fine little gravel. If you continue to the south of Soros, you will find many coves and sandy beaches to enjoy some privacy.
SUNSET BEACH (SIFNEIKO)
Sunset beach (or Sifneiko beach) can be reached on foot from the square in Antiparos town (500m distance), or by any vehicle via the ring road.
If you are looking for the perfect place to hide away, Sunset Beach (Sifneiko) is where you will want to go.
This tranquil paradise is named after Sifnos Island, another island in Cyclades, which can be viewed in the distance. Sunset Beach will enchant you with the tranquility of the crystal clear waters and its golden sand.
The sea can at times be a little rough with the exposure to the nothern summer winds, but the beach is ideal for the travelers seeking an exquisite snorkel adventure or for the pure enjoyment of splashing in the sea.
Like its name suggests, this is the beach to witness amazing sunsets on the island of Antiparos!
There is a children's playground nearby and stone benches for gazing at the scenery and sunset.
You can also enjoy a romantic dinner and drinks with a view of the enchanting sunset at the restaurants and taverns.
VATHIS VOLOS BEACH
Vathis Volos beach is an organised sandy beach near the region of Agios Georgios, about 12 km south west from the Antiparos town.
For the traveler seeking privacy, relaxation and clean waters this lovely beach will offer you just that during the summer months.
The crystalline emerald waters are a playground for divers and the sandy beach is ideal for those looking for a place to enjoy the sun.
The beach has umbrellas and sunbeds for rent.
There are a few local delicacies available at the nearby taverns and restaurants along with a some small hotels and rooms to let.
The uninhabited Islet of Despotiko is situated right opposite from Vathis Volos Beach and is easily accessed by small tour boats. Vathis Volos is sometimes a stop for tour boats that go from Paros to Antiparos and Despotiko.
FANEROMENI BEACH
Faneromeni beach is at the southern part of Antiparos. It is a very small sandy beach at the end of a long rocky road. You will probably need a car to get there.
The beach is just under the church of Faneromeni. Faneromeni beach is a sheltered haven offering tranquillity and incomparable dives.
Faneromeni is not an organised beach, there are no sunbeds, umbrellas or a beach bar.
The beach is also known as the "Tou Garbi to avlaki beach".
FANARI BEACH
Fanari Beach is a small beach that is well protected, so there is no wind most of the time.
There is plenty of shade under the trees.
There are sunbeds and umbrellas and a beach bar. There are some water sports also (sup, canoe).
Fanari beach is located between Psaraliki 1 and 2 beaches.
CAMPING BEACH
Camping beach is a sandy beach with shallow and clean waters. The beach is known as camper or camping beach and is one of the most popular of the Antiparos beaches.
It is located next to the camping site, about 100 meters on foot from Antiparos town (Chora), the only village and port of Antiparos.
This is a camper and naturalist beach haven since the 1970's. It gathers many young people, as is naturally expected, and nudism is officially permitted on a section of the beach.
It offers the traveler a relaxing environment with cerulean waters, long sandy beaches and a laid back atmosphere for the ultimate relaxing experience.
Tents are on site for bathers to enjoy some shade from the hot sun and is the perfect location for travelers seeking few nights stay on the beach.
AGIOS SOSTIS BEACH
Agios Sostis beach has amazing blue waters and kids will love it.
The beach is not organized so it is advised to bring your own umbrella and some supplies.
Parking during peak season could be an issue.
Διαβάστε αυτή τη σελίδα στα:

Ελληνικά (Greek)