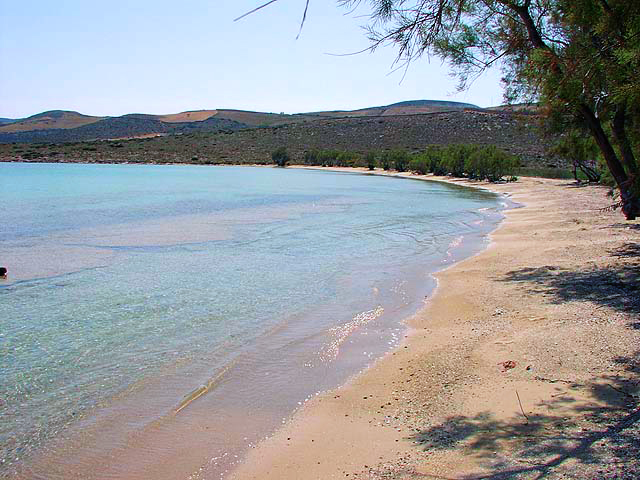 Psaraliki beach (or Psaralyki beach) in Antiparos is a sandy beach that actually consists of two beaches, which are known as Psalariki I and Psalariki II.
This lively beach haven offers two consecutive beaches that welcomes families to its sandy beach with shallow waters ideal for swimming and water sports activities.
Psaralyki A and B (or 1 and 2) are two organised beaches, where one is the natural extension of the other, with golden sand, beach bars, sunbeds and water games.
From Antiparos town, Psaralyki A and B (or 1 and 2) beaches are the 2 most easily accessed beaches on the island.
The location of these beaches that are facing east are ideal for when strong nothern winds hit Antiparos island. The beaches are mostly wind protected and ideal for families with small children, as they can safely play in the shallow waters without big waves.
Psaraliki I beach lies on the east part, and you can reach it after 10 minutes of walking in south direction from Antiparos town.  It is also possible to get there from Antiparos town by following the coastal path towards south. Psaraliki I is bigger and chosen by most tourists for swimming.
Psaliraki II beach can be reached after a a 2 minute walk going towards the south from Psaraliki beach I. Psaraliki I gets most tourists so that leaves Psaraliki II beach available for nudism, although sometimes you might find non-nudists, as well.
This beach is entertainment focused with options for everyone to enjoy. Available amenities offered here are pedal boats, bananas (towable inflatables), windsurfing, swimming, snorkeling and beach tennis. You will also find a restaurant on Psaraliki II and 2 beach bars for a taste of some local entertainment and treats.
The Psaraliki beaches are fully equipped with sunbeds and umbrellas for rent where visitors can relax and find a shady retreat to enjoy the warmth of the sun, read or take a nap. There is also natural shade offered by tamarisk trees.
Διαβάστε αυτή τη σελίδα στα:

Ελληνικά (Greek)