Return to Directory
Aggelos Antiparos Rent A Car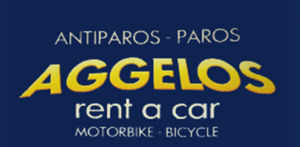 Description
In 1994 the birth of our first child started the family business Aggelos Rent A Car and Moto from Aggelos and Marcia ( who was born in Antiparos ) with a fleet of 10 mopeds V-50 Yamaha and 5 bicycles.While the years were passing , the expectations of the tourism of the island and our consistency, brought as a result of the current image of our office to have that latest and modern equipment that exists in the rental sector.
CAR RENTALS
Our cars are tested , new technology and available air-condition in all to take you safe and pleasant during your vacation.
ATV RENTALS
We have Four wheel in excellent condition from 50cc up to 420cc. Note: Exceeding 50cc can be driven with car license
BIKE RENTALS
We offer our customers a wide range of motorcycles, to cover all their needs during their vacation from 50cc to 350cc .
BICYCLES RENTALS
We have German technology training bikes, electric bikes and simple comfort women and men in all sizes .
+30 2284061626
+30 6944950094