Return to Directory
Artemis Hotel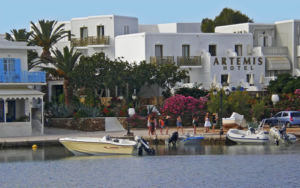 Description
Artemis Hotel, is located in the beautiful capital of Antiparos and offers apartments, studios and room rental accommodations. The hotel offers a fully renovated atmosphere and is a perfect addition to your relaxing holiday in Antiparos Greece.
You will be welcomed by lush gardens, spectacular views of the picturesque port and the deep blue Aegean Sea.
The Artemis Hotel is noted, as one of the most privileged Antiparos hotels. The attentive staff will welcome you with heart-felt hospitality and are available to offer you high quality services including, a fresh breakfast in the veranda.
Artemis serene location in the Aegean, will make this experience unforgettable.
Enjoy a relaxing summer holiday at the fully renovated atmosphere of Artemis Hotel in Antiparos!
If you wish to experience rejuvenating summer vacations in Greece, discover Artemis Hotel lying in the beautiful capital of Antiparos, a small island situated at the heart of the Cyclades Islands.
Just renovated and surrounded by a verdant garden this Cycladic style hotel in Antiparos is the ideal scenery to spend your holiday at with family, friends or your significant other.
You will be hosted in bright fully-furnished Antiparos hotel apartments, studios and rooms offering spectacular views of the picturesque port and the deep blue Aegean Sea, rendering it one of the most privileged Antiparos hotels.
In the warm, family environment of Artemis Hotel in Antiparos you will be taken care of by attentive staff and you will be offered heart-felt hospitality, while you can benefit from a range of organized facilities and high quality services, as well as the hotels close proximity to the beach.
Artemis Hotel Antiparos Greece belongs to the 2-star Antiparos Hotels and operates from April 1st to October 10th .
SERVICES & AMENITIES
Experience peaceful and carefree holidays in Antiparos and let us take care of your comfortable accommodation.
In Artemis Hotel in Antiparos Town our main objective is you experiencing unforgettable holidays in one of the most serene locations in the Aegean.
Artemis Antiparos Hotel has been fully refurbished to provide you with integrated hotel services and facilities guaranteeing a pleasant and relaxing stay in Antiparos.
Relish your fresh breakfast in the veranda and relax in the evening while gazing at the sunset and you will take with you unforgettable memories and images.
Here, you can relax in our comfortable facility, and enjoy a selection of fine drinks or light snacks. We are located right on the sea front, so as you sit back with your drink, you can admire the beautiful scenery and surroundings that we have been blessed with.
During the hot summer nights, take a seat outside, and enjoy the cool sea breezes. There is nothing quiet like enjoying a drink out in the open, looking up at the stars, and feeling completely relaxed.
HOTEL FACILITIES:
a reception desk (07:00 – 24:00)
a lounge
an indoor bar
a TV lounge
breakfast hall
internet corner
a parking lot
a veranda where you can have your breakfast or relax while gazing at the sunset
roof garden
garden
HOTEL SERVICES:
room service
currency exchange*
car rental service *
free transport from / to the port
fax transmittal
printer
safe deposit boxes
internet access
babysitting*
library
Pets are also welcome at the Artemis Hotel Antiparos Apartments, Studios and Rooms in Chora Antiparos, Greece.
* All the services signed with asterisk (*) are provided at extra cost
ENJOY YOUR BREAKFAST
Breakfast is served daily from 8.30 am to 10.30 am at the terrace of our hotel and costs EUR 8.00 per person.
It consists of coffee or tea, orange juice, bread, butter and jam and then you may also choose between fried eggs, boiled eggs, scrambled eggs, cereal or yogurt with fruit.
Please let us know the day before in case you are interested in having breakfast.