Captain Ben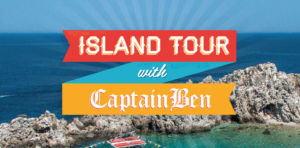 Description:
VISIT THE BEST BEACHES, SWIM IN CRYSTAL BLUE WATERS, DIVE & SNORKEL INTO THE SEA CAVES, HAVE DRINKS & BBQ ON DESPOTIKO ISLAND.
Captain Ben Lazy Day – Daily Cruises from Antiparos
Join Captain Ben Antiparos for a lazy day boat trip from Antiparos or Paros island.
The Lazy Day trip with Captain Ben starts from Antiparos port at 09.45. From Pounta Paros 10.00 and we return at 17.00
Diving & snorkling
During our trip we visit the best places antiparos and despotic has to offer. Diving and snorkeling in crystal blue waters all day!
BBQ
We arrange a fantastic barbecue after we've enjoyed some of the best swimming areas that the cyclades has to offer.
Snacks & drinks
For all our beloved guests we offer snacks and drinks during the trip!
Διαβάστε αυτή τη σελίδα στα:

Ελληνικά (Greek)