Go back
Captain Pipinos Seafood Taverna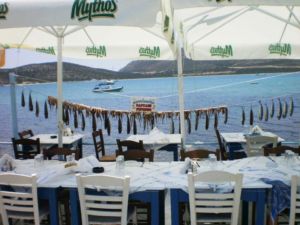 Description
Welcome to the CAPTAIN PIPINOS Fish Restaurant - Tavern on Antiparos island.
In a beautiful and peaceful setting by the sea, we are expecting you to offer our services and make sure you enjoy your meal any time of day.
White and sky blue colors are everywhere, creating a cool, island-like atmosphere. All dishes are cooked with special care and knowledge, all ingredients are carefully selected, seafood is always fresh.
Everything is prepared the time you order it: fresh salads, delicious finger-food ("mezedes"), seafood fished on the same day.
Affordable prices and friendly service will make you feel like you are in a unique and authentic small tavern in a hospitable island. Everything, from the atmosphere to the food, the staff and the prices, will make you enjoy a special gourmet experience with a smell of summer in the air.