Captain Sargos Antiparos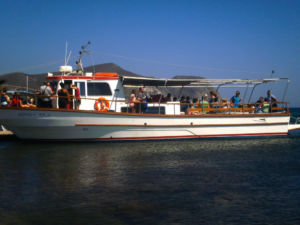 Name:
Captain Sargos Antiparos
Description:
Captain George Marianos "Sargos" – Daily Boat Trips to Despotiko Island
Captain George Marianos, known as "Sargos" for the last 17 years has been operating Boat Trips & Daily Cruises in Antiparos and the nearby islands.
Captain "Sargos" welcomes you in his boats, Sargos I & II, and invites you to come and enjoy the magnificent beautiful beaches of Antiparos, making your summer vacations in the island unforgettable.
Our Boats: 
Sargos I:
"Sargos I" is  a traditional Greek boat-"kaiki" constructed by Saronic Boats, well maintained and has been altered to a touristic-professional boat. Has capacity of 25 passengers and maximum speed of 20mph. Sargos I  is  operating boat trips &  daily cruises in the islet of Despotiko and the Caves at Epitafios area.
Sargos II:
"Sargos II" is a new luxurious boat constructed by Saronic Boats, handmade of polyester and wood. Has capacity of 49 passengers. It is equiped with 2 Cummins of 500Hp engines and has a speed of 16knots with maximum of 21knots. Apart from the Boat Trips to islet of Despotiko, Sargos II is available for Private Booking for trips to the nearby islands, like Sifnos or for Private Daily Cruises.
All safety rules are strictly kept in both our boats and all the necessary mechanical and cruising controls are being carried out before every trip.
Boat Trips
Captain Sargos departs from Agios Georgios marina with destination Despotiko island, which is the first stop of the Boat Trip. You can arrange the duration of your stay in Despotiko with Captain Sargos for as long as you wish, it can be 2hrs, 4hrs, 2days or even 2years! Captain Sargos will return to pick you up at the time you wish. Next stop will be in the Caves at Epitafios small beach with the amazing turquοise waters ideal for diving and if you get lucky you can see seals. After the caves we return to Agios Georgios.
Departures from the small marina of Agios Georgios are at 11:30, 12:30, 13:30, 15:30, 17:00 and 18:30. 
If you wish we can arrange a visit to the Archeological Area of Despotiko.
Διαβάστε αυτή τη σελίδα στα:

Ελληνικά (Greek)