Return to Directory
Cyclades Rooms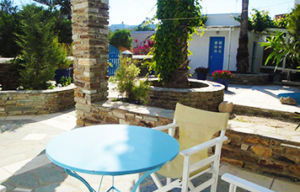 Description
Much beloved, the island of Antiparos in Greece is a place of awesome beauty and exciting atmosphere.
Its exceptional location in the deep blue sea and the clear Aegean sky makes Antiparos one of the most beautiful islands in Greece, filled with the light of the Greek, Mediterranean sun.
Embracing the cycladic charm, Cyclades Rooms is located in the village of Antiparos in a quiet setting with a garden of palm trees and fountains surrounding the property, a unique opportunity for unforgettable holidays!
Cyclades Rooms has 15 2-bed or 3-bed rooms and one apartment. All of our rooms have outstanding views and of our gardens, olive and palm trees and fountains. One just has to choose the kind of room that meets your desires and be prepared to enjoy yourself!
The rooms are crafted in traditional Cycladic architectural style and offer the warmth of Greek Island charm and the convenience of modern amenities.
Rising in the morning with the cool sea breezes engulfing your senses and the magic of the sunrise creates an idyllic vacation environment. The luminous whites and the classic Cycladic blues together with the wood and the stone create a landscape of unsurpassable beauty that radiates warmth and conviviality.
Amentities
TV
self controlled air-condition
refrigerator
bathroom (with shower)
wireless internet access
balcony or veranda with view to the garden
daily maid
fresh water for shower
hair-dryer