Return to Directory
Dolphin Antiparos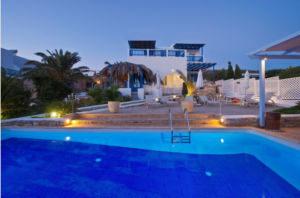 Description
Dolphin Antiparos villas & suites hotel in St. Georgio village
The stunning view, the magical sunset, the golden beaches, the clear blue sea, the windless cove, the Cycladic architecture and most of all our warm hospitality makes Dolphin an ideal place in Antiparos island for a relaxing and unforgettable family holiday by the sea...
Dolphin St.Georgio Villas & Suites is a sheltered traditional sea-front settlement on the island of Antiparos at St. Georgio village.
St. Georgio belongs to the Special Protected Areas ( SPA ) of the Natura 2000 Project. Natura 2000 is an ecological network of protected areas in the European Union.
Dolphin - St. Georgio Villas & Suites hotel on Antiparos island features a traditional Aegean architectural style, but at the same offers all modern facilities. You can spend a peaceful and relaxing holiday, taste the delicious traditional Greek cuisine and enjoy a glass of ouzo during a magical sunset. You can also make small escapes to the neighboring coves to feel the tranquility of the landscape and to enjoy the natural scenery.
Enjoy Walking or Scuba diving holiday! All by Dolphin!
Dolphin St.Georgio Villas & Suites Hotel is located in St.Georgio a traditional Cycladic village of Antiparos. It is 11 km far from Antiparos town, in a windless cove, opposite the Despotiko island, where you can discover virgin beaches and visit the archaeological site. The famous stalactite cave is 3 km away from Dolphin. The hotel is 10m from the sea and 80m from St. Georgio beach with the clear and crystal water of blue Aegean Sea.
Hotel facilities
Reception - 24-hour
Pool Bar
Restaurant
Chair for children
Swimming pool
Children s pool
Pool towels
Beach deckchairs, umbrellas & towels
Laundry service(on request)
Car parking
Internet connection
Fax
Travel & trips
Excursion booking (on Antiparos & other islands)
We can help you to organise your journey to Antiparos from any airport in Greece.
Housekeeping
Rooms are cleaned daily
Bed sheets are changed every two days
Towels are changed every day
During the high and peak season a small afternoon room cleaning service (on request)
Restaurant
Large home made buffet breakfast is served between 08:30-11:00am - at the restaurant or as a room service with extra charge.
The breakfast contains coffee, tea, chocolate or milk, bread, butter, home-made marmelade, honey, vareity of cakes, home made cheese pie, fruites, fresh orange juice, boiled or fried eggs, ham, bakon & cheese, yogurt with traditional citrus sweet, corn flakes.
Lunch is served at the bar - light meals, fruit, refreshments, fresh juices, ice cream, cakes, coffee, tea & cocktails.
Additional services
Massage & beauty treatments (on request)
Medical assistance (on request)
Cafe Bar
Open 8:30am-15:30pm & 18:00 pm - 21:00 pm
www.dolphinantiparos.gr/cafe
Getting here and around
Booking service for ferry tickets and for trips to Antiparos and the surrounding islands.
Taxi service from Athens airport to Piraeus port or from Santorini airport or from Mykonos airport to the port
Taxi service from Paros port to Pounta to Antiparos
Complimentary transfer service from Antiparos Port to Hotel
Car Rental in Special prices for all Dolphin quests.
Room Service
From 08:30-14:30 and 18:00-23:00 hrs.
Car rentals
Car rentals:Special prices for Dolphin friends. More info on Car rentals page of our web site