Return to Directory
Ktima Zantidi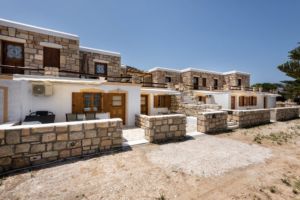 Description
Traditional Stone Guesthouses
With respect in the traditional architecture of Antiparos, we aimed in the high quality, the idea arrangement, the comfort and the fuctionalism of spaces with materials that we have resued and use from old buildings (stones, bricks, marbles etc.), in the interior but also to the enviroment space.
The passion of Ms.Stavros for perfection an the good tase of Ms Armelina was the base for the creation of questhouses in Ktima Zantidi.
The result windicates the hard work of so many years, that is why the develop ness to each construction is tryly unique.
Accommodation
Ktima Zantidi's quest-homes accommodate 2 to 4 persons with comfort and luxury.
The quest-homes are comprised of two individual rooms with their own entrances and inner connecting doors.
The main bedrooms offers a spacious king-sized bed, independent air-conditioning and cable television.
The adjoining room can be tailored to your needs as a second bedroom with single or double beds, or as a living space with all the comforts of the main bedroom along with a 28" LCD TV and Hi-Fi stereo system.
All guest-homes are fully autonomous with their own bathrooms and kitchen and all the necessary home appliances such as hair dryer, cooker, refrigerator, boiler, toaster-roaster etc.
Facillities that you can enjoy
Ktima Zantidi offers 7 guesthouses that can accomdate 2-4 guests.
All the guesthouses are:
Fully furnished
Feature air conditioning in all rooms
Cable TV 28′
HiFi
Cooker
Refrigerator
Boiler
Toaster / Roaster
Coffe Espresso – Tassimo
Individual bathroom
Hairdryer
Iron / Ironing board
Parking area and veranda in order to enjoy our visitors the view until the beach.