Return to Directory
Oliaros Studios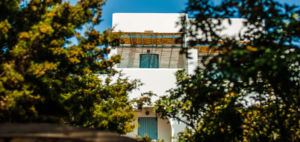 Description
Oliaros is a small charming lodge located in Agios Georgios south-west of Antiparos Village in one of the most picturesque corners with ideal orientation offering a breathtaking view overlooking the bay of Despotiko Island.
Respecting the Greek hospitality in Oliaros we are making an effort to offer you quality accommodations and services. The lodge has been in our family for year and it is with patience and devotion that it was preserved and refurbished in its contemporary look. The dominant feature of all rooms is the real Cycladic decoration. Unique hand crafted furniture and paintings have been collected over teh years from different places of Greece to decorate the rooms.
Arrangements can be made for transfers to and from the hotel along with rentals of a car, motorbike and bicycles. All options provide unique ways to experience the island of Antiparos.
Oliaros is a beautiful seaside hotel located next to the sea on the south west of Antiparos in Agios Georgios, the most picturesque corner of the island's coast, offering breathtaking views to the light blue Aegean sea and the bay of Despotiko island.
Oliaros has been in our family for decades and it is with patience and devotion that was built , preserved and refurbished in its contemporary look.
Nowadays, Vasilis and Zafeiria with a team of lovely people run the lodge with a smile and real respect to the Greek hospitality.
They will welcome you in the morning, prepare and serve the Greek homemade breakfast and in the evening you might listen to them playing classical or jazz music with their instruments.
We believe that you will love our place and we will make our best to offer you beautiful holidays!
Services
We can arrange a taxi transfer to Oliaros.  Always a prior booking is preferable with the exact time and type of transportation that you arrive on the island.
We can help you on any travel and flight arrangements, car and bike rentals and provide you with information about other islands and inland destinations.
Wi-Fi available in the rooms and in public areas (please note that since you are in a remote area, the internet signal might not always be efficient).
A map of Antiparos is always available for you with a lot of tips, places with amazing natural beauty, places to swim, sea caves, paths to hike.
Our homemade breakfast is served from 8.30 to 11.00 in the outer area of the lodge.  If you have special preferences or you are in a special diet, please let us know on arrival.
The rooms are cleaned daily and the sheets and towels are changed every 3 days.
Beach towels are available on request.
Yoga sessions are organized with minimum 4 participants.
We are sure that you will love our place and you will have wonderful holidays, please let us know anything that might be important to you during your holidays!!