Oliaros Studios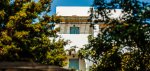 Oliaros is a small charming lodge located in Agios Georgios south-west of Antiparos Village in one of the most picturesque corners with ideal orientation offering a breathtaking view overlooking the bay of Despotiko Island.
Respecting the Greek hospitality in Oliaros we are making an effort to offer you quality accommodations and services. The lodge has been in our family for year and it is with patience and devotion that it was preserved and refurbished in its contemporary look. The dominant feature of all rooms is the real Cycladic decoration. Unique hand crafted furniture and paintings have been collected over teh years from different places of Greece to decorate the rooms.
Arrangements can be made for transfers to and from the hotel along with rentals of a car, motorbike and bicycles. All options provide unique ways to experience the island of Antiparos.