Paradise Village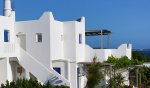 Paradise Village offers a front seat view of the Cyclades. Located on the island of Antiparos and surrounded by the turquoise water of the Aegean Sea this is a charming retreat.
Paradise Village is a family friendly atmosphere and prides itself in making your stay relaxing and comforting. It is a perfect choice if you plan to stay on the island for a longer duration of time. The complex is built in the quietest settlement away from the noises of the street and pedestrian traffic.
The Village offers apartments with two spacious bedrooms, private bathroom (LUX with 2 bathrooms), full-equipped kitchen, air-condition and a large balcony with view to the opposite Paros and the blue of the Aegean.
Only a 10 minute walk from the port and in close distance you will stubble upon Camping and St Spyridon beach, both perfect for families.  A service at an small extra fee of 5 Euro will escort you right to the Village of Antiparos, no charge for pick up and drop off during arrival and departure.