Return to Directory
Pavlos Place Hotel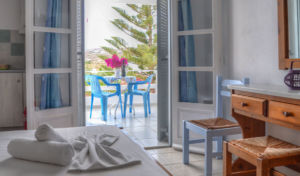 Description
Pavlos Place is very family orientated, with many families returning every summer. The Hotel has 16 rooms in total, 6 rooms on the ground floor and 10 on the upper floor. The complex offers double rooms, triple rooms, and two room apartments or two rooms that can be passed as one by opening an interior door. These apartments and rooms are ideal for families. Some rooms have double beds and others offer single beds. Some of the first floor rooms have a sea view and some others a village view, depending on their location.
Pavlos Place is situated on a quiet side street in Antiparos village. It's approximately a 5 minutes walk or 2 minutes drive from the port (200 m), and just 30m from the main market street where you can find shops , cafe and restaurants. The center of nightlife in Antiparos is in the main Square, which is located at the end of the main street, just 200 meters away from this complex.
A total of 5 beaches are all within walking distance of the complex. Of course with transport you can explore the whole island and its many other beaches , the ancient sites, and the famous Stalactite Cave. There is a bus at the port that connects across the island and boat tour to the many isolated islands, beaches and water caves around the island. You can also visit the small island of Despotiko with its many ancient findings and beaches.
Complimentary Transfer to and from the port of Antiparos for all guests.
Pavlos Place on Antiparos island in the Cyclades of Greece , consists of a clean, comfortable, charming family run hotel that offers double – triple rooms , double space apartments for up to 5 people.
It also is a traditional Greek restaurant with a variety of Greek flavors and other dishes that you do not find elsewhere on the island , all cooked and served by the family in a warm and friendly atmosphere.
The owners, the Marianos family, will welcome you with a smile as if you were a member of their own family…and will help you with pleasure to organize a dream holiday in Antiparos.