Pavlos Place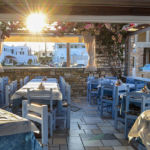 Pavlos and Dina have been improving their Homemade Cuisine over the years taking different recipes from all around Greece in order to be able to offer something unique.
Here at Pavlos Place you can of course find the main traditional dishes such as Mousaka, homemade Stuffed Vine Leaves and Stuffed Tomatoes, but you will also be able to try out a variety of exciting new dishes that you won't find elsewhere on the island.
Apart from the many special appetizers, salads and cooked dishes you can find fresh fish and meat from the grill. In addition you can enjoy fresh octopus and squids that Pavlos fishes for himself. There's a wide variety of small dishes ("Meze") to go with your local Tsikoudia(Ouzo), your wine or beer. At the end of your meal you must experience one of Dina's homemade desserts!
Pavlos Place is the only place in Antiparos where somebody can find Live Greek Music. Ben plays the bouzouki with a friend who accompanies with a guitar promising you magical moments of entertainment and dancing.
Music Nights at Pavlos Place give you a different feeling of Antiparos' night life.