Return to Directory
Sinioris Taverna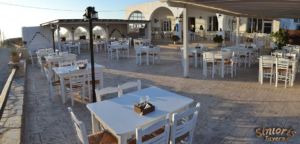 Description
In one of the most idyllic spots of the island, next to the sunset beach of Antiparos and for more than fifty years, we have been offering our guests traditional dishes from the island with homemade recipes.
Tradition
First started in the 1960s, Sinioris Taverna is keeping the traditional cuisine alive with carefully chosen products from the unique soil of Antiparos.
Taste
Famous for its meat dishes, Sinioris Taverna is considered as one of the necessary stops at your visit in Antiparos with excellent appetizers, local specialties and spirits. Just everything you need for a memorable dining experience in the island.
Location
Sinioris Taverna is located in the village of Antiparos, 50 meters from the square and a few meters away from Sifneikos Gialos, where you can enjoy the magic of the sunset.
Events / Weddings / Parties
Here at Sinioris Taverna, our extensive experience guarantees a memorable event for you and your guests.
Special menus and decorations that meet the specific requirements of your event combined with excellent service by our experienced staff will transform your wedding or party into a unique experience.
Do not hesitate to contact us to discuss the details and prepare a menu that will satisfy your special demands in order to enjoy your event.