Return to Directory
Soros Beach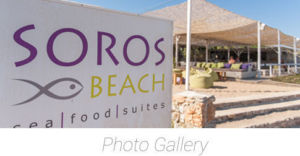 Description
Accommodation
Island beach life is the epitome of summer holidays! 
Beach life in Greece requires ridding off the urban stress by breathing the salt air, swimming for hours, feeling the sand between your toes and the sun on your skin, wearing your swimsuit all day and smelling like a coconut suntan cream. In other words, exemption from the daily routine means to live in the rhythms of the island you have chosen to visit for your summer holidays.
If you strongly believe that summer life is better at the beach, then Soros Beach Rooms and Suites is the place for you! If you are looking for the ideal beachfront place to "accommodate" your desire for a summer escape, book in time the room type you prefer at  Soros Beach.
Tips
5 Cycladic architectural style buildings, 8 traditional designed Rooms and Suites, all with sea view
3 Double Superior rooms, 1 Superior Family room, 3 Junior Suites and 1 Grand Suite.
Rooms/Suites Facilities:
Check in:14:00
Check out:12:00
Air Conditioning (Bedroom Areas)
Private balcony (Garden or Sea View)
Satellite TV
Direct dial telephone
Free Internet access
Free Parking
Laundry service (upon request)
Rentals/Tour excursions
Restaurant
Soros Beach gives emphasis on gastronomy. 
Its open-air restaurant on the beach with spectacular views of the sea and the skyline offers excellent gourmet experience due to the premium menu and the well stocked bar with affordable wine labels from local and international vineyards. The professional and at the same time friendly staff will gladly advise you to choose the menu highlights and the right wine for your meal according to your own taste.
The carefully selected menu influenced by the Greek and Mediterranean cuisine, has references to Santorini and Naxos islands. The extensive menu includes seafood-centric dishes, meat dishes and delicious desserts. Last but not least, as Soros Beach is a family-friendly restaurant, the executive chef has prepared a special kids' menu.
The high quality and freshness of the local ingredients are the food philosophy of Soros Beach cuisine. Elegant design and Greek creative cuisine go hand-in-hand at Soros Beach which has already become a favourite restaurant in Antiparos.
Tips
-Open from 09:00
-Free parking area
-Free wifi
-Breakfast menu: 09:00 - 11:30
-Snack menu: 11:30 - 17:00
-A la carte menu: - 13:00 - 19:00
Bar & Beach
"Sea and sun are not enough"
is the motto of Soros Beach for those who wish to spend their full day in a chic and cool venue on the beach listening to their favourite music and drinking signature cocktails. The guests are an eclectic mix of young "beach bar lovers" who either enjoy their drinks accompanied by the bartender or take them in hand having their toes in the sea. Soros Beach is the ideal place to see happy people dancing, laughing and flirting proving that they know exactly how to celebrate summer!
As the day winds down and the sun offers a last glimpse before it disappears in the horizon once more, the bar "serves" a stunning sunset view and turns into a chill, lounge spot. The colourful, minimal decor inspired by geometric shapes is now an atmospheric night decor.
Soros Beach is not actually an every night party, but very often theme parties and events take place featuring well-known DJ's to stimulate the summer mood. Otherwise, dancing on the beach is the short definition of a Greek summer night.
Tips
-Open from 09:00
-Free parking area
-Free wifi
-Breakfast menu: 09:00 - 11:30
-Snack menu: 11:30 - 17:00
-A la carte menu: - 13:00 - 19:00