Return to Directory
Sunset Deseo RESTAURANT BAR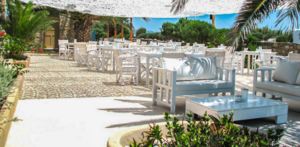 Description
THE RESTAURANT BAR
Sunset Deseo restaurant and lounge bar are open all day long. From 7:30 am to 11:30 am, enjoy our extending breakfast. From 11:30 am to 6:00 pm, we suggest you a light lunch menu and snacks.
Later, let your mind float around and your eyes enjoy the marvelous sunset's colors, tasting a cocktail or a glass of wine at our lounge bar.
Come to see us at night and have a taste of our delicious Mediterranean dishes based on fresh Greek and Italian products, and fish. Our Italian Chef created a unique menu, mixture of Italian and Greek flavors.