Return to Directory
Vicky's Ice Cream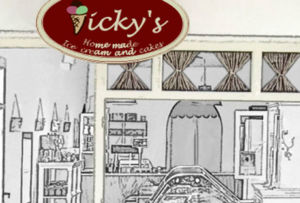 Description
In July 1993 we opened the NAVAGIO cafe on the island of Antiparos in the Cyclades.
We started off with light meals – mainly sweet and savory crepes, – but also put a lot of energy into something else we had a passion for: Desserts!
In the years that followed we gained valuable experience, attended numerous professional seminars and became better tuned in to customer's tastes and demands. This inspired us to move on and try to revive something long since forgotten: Homemade Ice Cream!
In July 2007 we put our idea into practice and since then we have been making ice cream up to three times a day using only fresh milk and ingredients of the highest quality.
Today we offer close to 40 flavors of ice cream, many of which are available every day. We also create the freshest of cakes and desserts prepared the same day and can also make yours to order!
Διαβάστε αυτή τη σελίδα στα:

Ελληνικά (Greek)