Return to Directory
Villa Petalida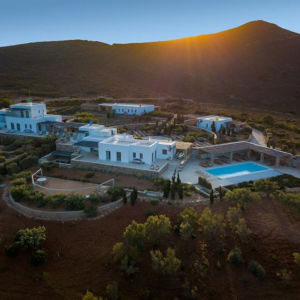 Description
Petalida is a sanctuary on the small Cycladic island of Antiparos. It is a stunning waterfront property, within its own grounds on a south facing, low lying peninsula enjoying a privileged position with panoramic views of exceptional beauty of the Aegean Sea.
This grand estate sits on a vast 20 acres land that has been thoughtfully landscaped to integrate into its natural settings.
The estate is the manifestation of our ambition to create an island sanctuary which is simple, private and safe. A place where family and friends can relax and charge their batteries.
The Estate has two villas, and a guesthouse, completely independent and private. The Cycladic architecture with its sugar cube shapes allows every room to open to a terrace. An example of Greek elegance and sophistication.
Petalida is fully serviced with local staff eager to please. Our cook is a master in cooking simple food with fresh local ingredients.
We grow our own fruit and vegetables, make our own honey, wine and preserves and have our own chicken and fresh eggs. Our cultivations are organic and local fishermen and farmers ensure that Petalida has a good supply of local fresh fish and meat.
The peninsula where Petalida is located has been designated as an area of outstanding natural beauty. It is one of the most tranquil spots on the island and unveils the true beauty of Antiparos original landscapes. It has many small coves, which are all within easy walking distance and suitable for swimming. There are two small beaches just below Petalida that are accessible through a private path.