Return to Directory
Yam Antiparos Restaurant & Bar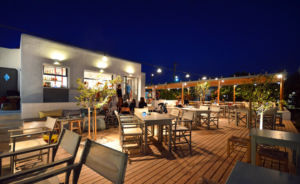 Description
Set in a beautiful landscaped field, off the main street of Antiparos village, YAM is the place to relax, eat, drink and play, to the sound of happy tunes, and service of friendly staff. It is also a hub for various activities, exhibitions, and public or private events.
Originally, and for many years a funky cocktail bar -the first of its kind on the island, it has been a favourite spot on the night scene of Antiparos. Now YAM has grown up, and caters for cocktail drinkers, worldly eaters, tods and easygoing people of all ages.
Being parents ourselves, we know that happy kids, make happy parents! That's why we have created a beautiful play area for kids, using mainly upcyled equipment. Let them roam in the garden, while you sip your favourite cocktail!
We are there every evening from June until mid September.
Our restaurant is open every day from 9:30 -15:30 for brunch and from 19:00 onwards with our evening menu and refreshing cocktails, guaranteed to make you feel good!
At our restaurant you will find flavours from Greece and from around the globe. Our eclectic menu includes hearty brunch and, in the evening, fresh & healthy dishes, tasty grilled meats, bar-nibbles, and kids' favourites.
To quench your thirst, we have a selection of beers, wines and non-alcoholic juices & sodas. Above all though we love cocktails: cocktails to accompany your food or to drink on their own.