Antiparos 6th Mountain Bike Race
3 September, 2017 @ 10:00 am
10€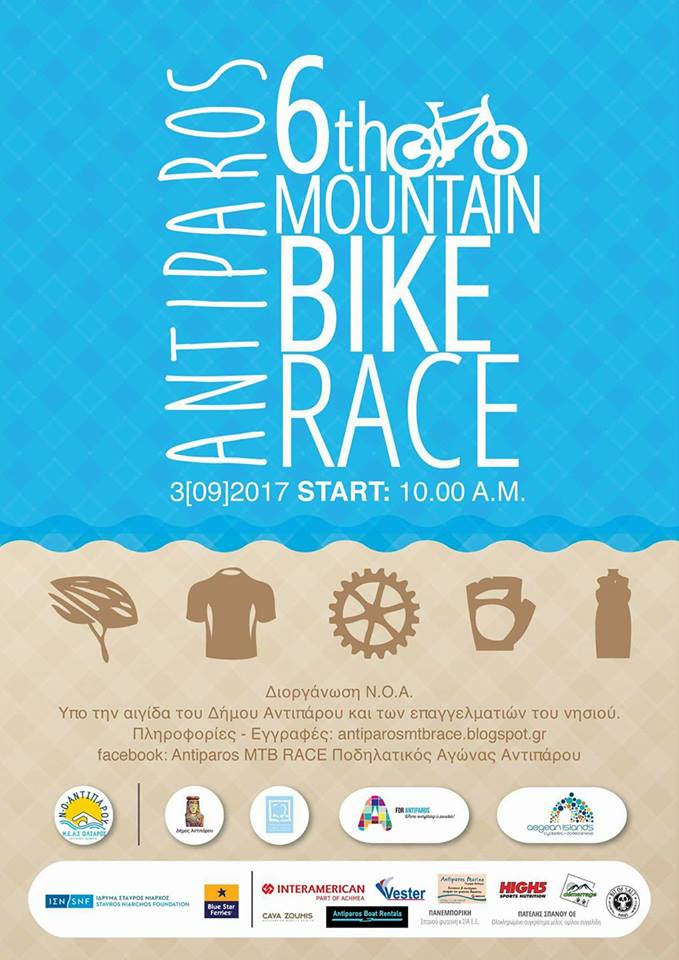 The Antiparos Nautical Club supported by the Municipality of Antiparos is announced the 6th ANTIPAROS MTB RACE which will take place the September 3rd 2017 at 10:00am.
The race starts from the Antiparos port with a pre race route of 7 km until Soros beach with a car leading the athletes. After that starts the 25 km distance main race part of the route which finishes at the port of Antiparos.
The whole race route is 32km.

SIGN IN
Everybody over 18 years can participate. For the ages between 15-18 parental consent is necessary.
USE OF HELMET IS OBLIGATORY.
ENTRANCE FEE 10 EURO. (can be payed before the start of the race)
CATEGORIES
A1 Men: Age 19-29
A2 Men: Age 30-39
A3 Men: Age 40-50
A4 Men: Age 50 -…
E Adolescents: Age 15-18
F Women
PRIZES
Cup for the 1st in each category.
Silver medal for the 2nd.
Bronze medal for the 3rd.
Diploma and medal of participation to all.
Info –Sign in http://antiparosmtbrace.blogspot.gr/
Route info http://www.brytonsport.com/mapTrackView/2?id=7617534
SUPPORT
Water and energy gel during the journey.
bid HIGH 5
Medical assistance and ambulance Municipality Antiparos
Antiparos Multipurpose Clinic
You can find here all the events at Antiparos island in Cyclades, Greece.
Art, cinema, theater, concerts, history, sports as well as traditional and religious events, all are here.
Βρείτε εδώ όλες τις εκδηλώσεις στο νησί της Αντιπάρου στις Κυκλάδες.
Θα τα βρείτε όλα εδώ: τέχνη, σινεμά, θέατρο, συναυλίες, ιστορία, αθλητικά γεγονότα καθώς και παραδοσιακές και θρησκευτικές εκδηλώσεις, κτλ.