Antiparos Cinema Days 2017: Day 4
24 July, 2017 @ 9:00 pm
Free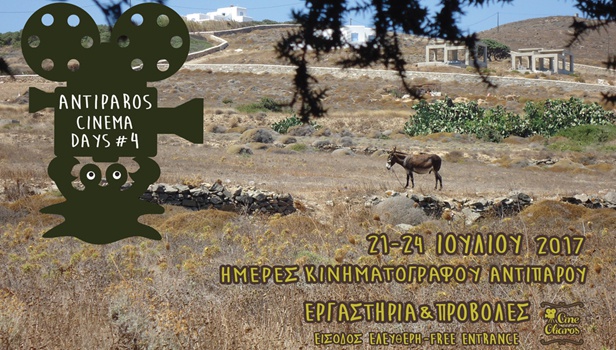 The 4th iteration of Antiparos Cinema Days 2017 is returning on the island for the 4th consecutive year.
The 4-day event will take place at Cine Oliaros from the 21st until the 24th of July. The first and the last days are dedicated to shot films while 2 feature movies will be shown on each of the other 2 days.
All movies are in Greek with English subtitles. (All except one movie that is in Italian with Greek subtitles.)
Entrance is free for all.
You can see below the event schedule in Greek and in English.
ΠΡΟΓΡΑΜΜΑ ΠΡΟΒΟΛΩΝ
ΔΕΥΤΕΡΑ 24 ΙΟΥΛΙΟΥ Cine Oliaros
Προβολή ταινιών μικρού μήκους / Short Films Selection 21.00
Κύβος του Αλέξανδρου Σκούρα / Cube by Alexandros Skouras 24', 2016
Hiwa της Ζακλίν Λέντζου / Hiwa by Jacqueline Lentzou 11', 2017
Νηπενθές του Γιάννη Συμβώνη / Nipenthes by Yannis Simvonis 14', 2016
Έρικ των Φαίδωνα Γκρέτσικου & Πάνου Τράγου / Eric by Faidon Gkretsikos & Panos Tragos 26', 2016
Η Χέλγκα είναι στο Λουντ της Θέλγιας Πετράκη / Helga is in Lund by Thelyia Petraki 20', 2016
4.1 Miles της Δάφνης Ματζιαράκη / 4.1 Miles by Daphne Matziaraki 26', 2016
info
Όλες οι προβολές είναι με ελεύθερη είσοδο, στην ελληνική γλώσσα και με αγγλικούς υπότιτλους.
*Στην ιταλική γλώσσα με ελληνικούς υπότιτλους.
Η δήλωση συμμετοχής στα εργαστήρια από μαθητές Γυμνασίου – Λυκείου είναι απαραίτητη μέχρι τις 10 Ιουλίου. Θα τηρηθεί σειρά προτεραιότητας.
Για να δηλώσετε συμμετοχή απευθυνθείτε στο sofia[@]onefromtheheart[.]gr
ή στο τηλέφωνο 6947 639724.
Η συμμετοχή στα εργαστήρια και η παρακολούθηση των προβολών είναι δωρεάν.
You can find here all the events at Antiparos island in Cyclades, Greece.
Art, cinema, theater, concerts, history, sports as well as traditional and religious events, all are here.
Βρείτε εδώ όλες τις εκδηλώσεις στο νησί της Αντιπάρου στις Κυκλάδες.
Θα τα βρείτε όλα εδώ: τέχνη, σινεμά, θέατρο, συναυλίες, ιστορία, αθλητικά γεγονότα καθώς και παραδοσιακές και θρησκευτικές εκδηλώσεις, κτλ.