Paros – Antiparos 11th Swimming Crossing 2018
8 September, 2018 @ 5:00 pm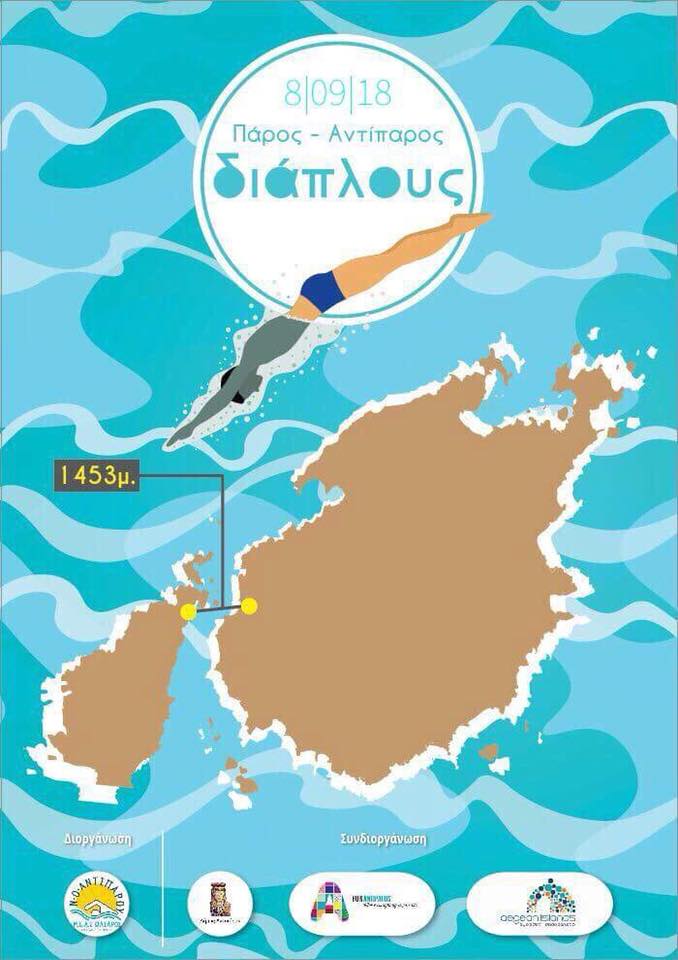 The Antiparos Nautical Club "OLIAROS", faithful to its well-established annual summer appointment with swimmers and friends of the sea, co-organizes with the Municipality of Antiparos this year's swimming crossing from Punta of Paros to the port of Antiparos.
The Municipal Council of the Municipality and the Board of Directors are making every effort to overcome any obstacles in order to organize a perfect swimming crossing for the athletes and for all the participants.
They hope that the 11th crossing will be the best in participation and organization.
The crossing is 1453 meters long.
Location: Pounta port, Paros
Registration from 15:30.
Starting time 17:00.
Διαβάστε αυτή τη σελίδα στα:

Ελληνικά (Greek)
You can find here all the events at Antiparos island in Cyclades, Greece.
Art, cinema, theater, concerts, history, sports as well as traditional and religious events, all are here.
Βρείτε εδώ όλες τις εκδηλώσεις στο νησί της Αντιπάρου στις Κυκλάδες.
Θα τα βρείτε όλα εδώ: τέχνη, σινεμά, θέατρο, συναυλίες, ιστορία, αθλητικά γεγονότα καθώς και παραδοσιακές και θρησκευτικές εκδηλώσεις, κτλ.