Are you gonna be in Antiparos or Paros on Saturday 8/9?
Do you like parties?
Free beers and snack food?
Wanna be a part of the new Argyris Papadimitropoulos (Suntan) film starring Sebastian Stan (Avengers, I Tonya) and Denise Gough?
Then come to SUNSET DESEO on Saturday at 18:00 and party with us!!
There's going to be free transportation from Antiparos port to the location and a special overnight ferry, back to Paros after the end of the party!
Greek version following with more details:
Γύρισμα στην Αντίπαρο θα πραγματοποιηθεί για την καινούργια κινηματογραφική ταινία MONDAY, σε σκηνοθεσία Αργύρη Παπαδημητρόπουλου (Suntan). Στην ταινία πρωταγωνιστούν ο Sebastian Stan (πολύ γνωστός από I, Tonya και Avengers) και η Denise Gough (γνωστή κυρίως από θέατρο, με πολλά σημαντικά βραβεία).
Θα πραγματοποιηθεί γύρισμα στην Αντίπαρο, στο Sunset Deseo. Η συγκεκριμένη σκηνή που θα γυριστεί είναι πάρτι και ως εκ τούτου χρειαζόμαστε την πολύτιμη βοήθεια κόσμου.
Θα πραγματοποιηθούν γυρίσματα:
α) στην Πάρο την Τετάρτη 5/9 στο στενό ανάμεσα στην boutique Electric και το Kosmos bar. (15 άτομα χρειαζόμαστε για αυτό) Οι ωρες είναι 08:00-16:00 αλλά όποιος ενδιαφέρετε να συμμετάσχει δεν χρειάζεται να έρθει όλες τις ώρες
β) στην Αντίπαρο ΓΥΡΙΣΜΑ ΠΑΡΤΥ Σάββατο 8/9 στο Sunset Deseo (στα Σιφνέικα) 16:00, με πολλή μουσική, snack food και δωρεάν μπύρες!
Για τον κόσμο που θα θέλει να έρθει από την Πάρο, θα ήθελα να ενημερώσω πως έχει προβλεφθεί να υπάρχει ferry boat στην λήξη του γυρίσματος ώστε να μπορέσουν να επιστρέψουν απέναντι.
Περισσότερες πληροφορίες για την ταινία:
http://flix.gr/news/monday-cast-announced.html
Facebook event του party:
https://www.facebook.com/events/629212344141158/permalink/629845540744505/
Για περισσότερες πληροφορίες:
Ελένη Τσέκερη 6978871675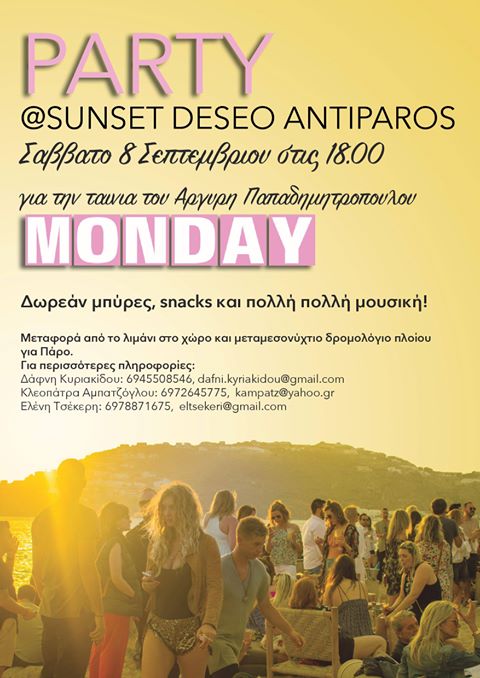 Διαβάστε αυτή τη σελίδα στα:

Ελληνικά (Greek)