Past Events
Events Search and Views Navigation
September 2018
October 2018
June 2019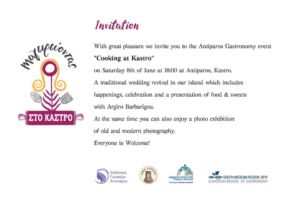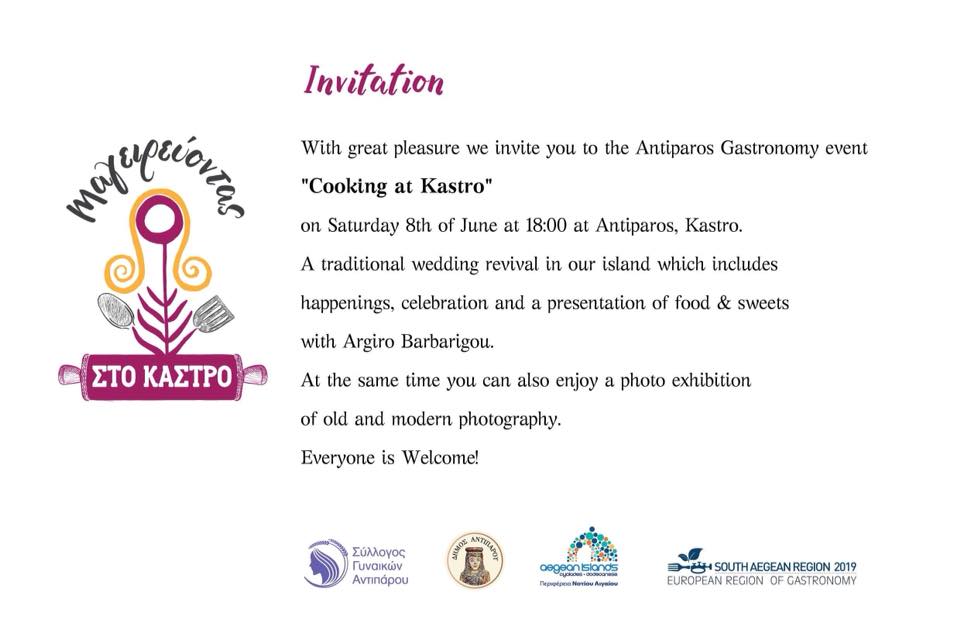 With great pleasure we invite you to the Antiparos Gastronomy event "Cooking at Kastro" on Saturday 8th of June at 18:00 at Antiparos Kastro. A traditional wedding revival in our island which includes happenings, celebration and a presentation of food and sweets with Argiro Barbarigou. At the same time you can also enjoy a photo exhibition of old and modern photography. Everyone is welcome.
Find out more »
July 2019
September 2019
July 2021
+ Export Events
You can find here all the events at Antiparos island in Cyclades, Greece.
Art, cinema, theater, concerts, history, sports as well as traditional and religious events, all are here.
Βρείτε εδώ όλες τις εκδηλώσεις στο νησί της Αντιπάρου στις Κυκλάδες.
Θα τα βρείτε όλα εδώ: τέχνη, σινεμά, θέατρο, συναυλίες, ιστορία, αθλητικά γεγονότα καθώς και παραδοσιακές και θρησκευτικές εκδηλώσεις, κτλ.